Mar 11, 2018 @ 20:00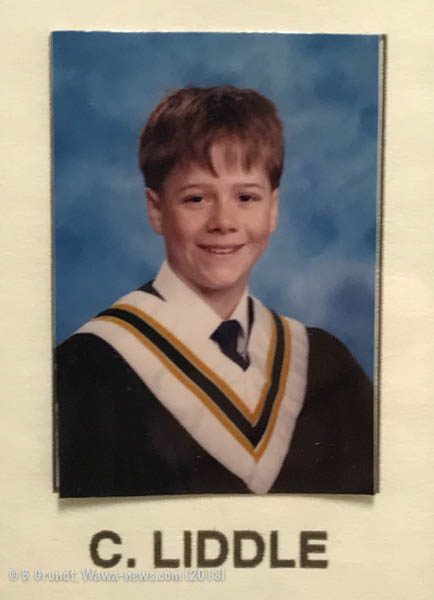 At a special series of assemblies Friday morning, the students of Sir James Dunn gathered to watch a video message and photographs that Colton Liddle had sent from Pyeonchang. Colton is currently competing in the Paralympics in Pyeonchang. His sport is snowboarding. Colton's video message was very inspirational for the students, and parents may find it inspirational as well.
Every month a student at Sir James Dunn is selected for their efforts throughout the month. This month's choice was Colton, who graduated in 2003/04.
This was the message that Principal Tarmo Poldmaa wrote:
"Dear Colton,
As one of your former teachers, I want to say how proud I am of you. Making it onto Team Canada's Paralympic Snowboard Team and now representing Canada as an athlete at the Pyeongchang Paralympic Games is an incredible accomplishment. As a student, you were always one that had a positive attitude every day. You were always willing to put your best effort forward in whatever you did, you were always encouraging to your peers and as a result, you were a positive influence at both SJD and MHS and a pleasure to teach and coach. You demonstrated great leadership qualities to me when you were part of my Outdoor Education Program at MHS and the year our Team won the Ontario High School Adventure Race. These leadership qualities, your ability to persevere and your courage, are all attributes that allowed you to move through the challenges you faced after your accident and have made you who you are today – An Olympian! Congratulations Colton! I know that whatever happens at Pyeongchang you will have given it your all. All of us at Sir James Dunn Public School are incredibly proud to have you representing Canada at these games.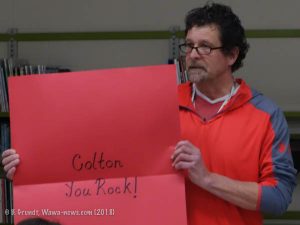 At the end of every month, we have a Student of the Month Award that focuses on a particular character attribute. This month the character attribute is COURAGE. I cannot think of another student that exemplifies this character attribute more. You have faced many personal challenges that you have overcome and to rise above these challenges is truly courageous and an inspiration to us all. Therefore, I am awarding you an Honorary Student of the Month Award on behalf of all the students and staff at Sir James Dunn Public School."
Poldmaa also asked all students to send a greeting on a cougar footprint, and they will all be forwarded to Colton.
After the two assemblies were finished, the students and staff gathered outside for a group shot – wishing Colton good luck in his competitions!