Published on: Apr 7, 2005
Under the new Ontario Municipal Partnership Fund (OMPF) the Township of Michipicoten will receive an increase of $209,226 over what it received under the old Community Reinvestment Fund (CRF), Mike Brown, M.P.P. for Algoma-Manitoulin announced today.
The funding is part of the Ontario government's announcement that it is replacing the CRF with the more equitable and transparent OMPF. This new program targets funding to social program and policing costs for small Northern and rural municipalities.
"This is good news for the Township of Michipicoten," said Brown. "Not only will it receive more funding under the OMPF, it will also benefit from a new model that is clear and transparent."
Across Ontario, the new OMPF represents an increase of 6.1 per cent in the amount of money distributed to municipalities over the old CRF in 2004.  The total payments to municipalities in Algoma-Manitoulin through the OMPF will increase by 11.5 per cent over last year's payments through the old CRF.
"The government has recognized the need to support our Northern communities," said Brown. "The costs of social programs and police services can be quite onerous on Northern municipalities and the OMPF includes targeted funding to assist Northern municipalities with these costs."
The Ontario Municipal Partnership Fund is made up of four components:
A social programs grant to reduce the burden of social programs on the property tax base of small, rural and Northern communities;
An equalization grant to provide funding to municipalities with a limited tax assessment base;
A Northern and rural communities grant in recognition of their unique challenges; and,
A police services grant to provide funding to Northern and rural communities with higher policing costs.
To assist in the implementation of the new grant program, the government is providing one-time transition funding of $233 million from the 2004/05 Change Fund to meet the province's reconciliation obligations for 2003 and 2004 under the old CRF, and to ensure a manageable pace of change for municipalities. All municipalities will receive, at a minimum, as much funding in 2005 as they received through the CRF in 2004.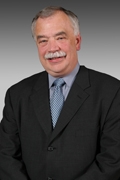 Latest posts by Mike Brown
(see all)