November 16, 2023
Ottawa, Ontario
The Prime Minister, Justin Trudeau, today issued the following statement on Louis Riel Day:
"Today, people across Canada come together to honour and celebrate the legacy of Louis Riel, the great Métis leader and founder of Manitoba.
"Louis Riel's contributions to our country cannot be overstated. His passionate advocacy for the Métis and his unwavering commitment to Indigenous rights, justice, and bilingualism helped shape Manitoba, and the Canada we know today. His visionary leadership and incredible resilience are a continued source of inspiration for Canadians as we work toward a more just and equitable future.
"As we commemorate Louis Riel's legacy, we reflect on the major achievements for which he paved the way. We continue to work with Métis and other Indigenous partners across the country to advance reconciliation, including through the implementation of the recently unveiled United Nations Declaration Act Action Plan 2023-2028 – an evergreen roadmap to achieve the objectives of the United Nations Declaration on the Rights of Indigenous Peoples.
"The Government of Canada recognizes the historic injustices suffered by Métis and all Indigenous Peoples. Today, we recommit ourselves to addressing these wrongdoings through meaningful dialogue and collaboration. It is in this spirit that we remember Louis Riel.
"On Louis Riel Day, I encourage all Canadians to learn from our history, and to strive for a brighter and more inclusive tomorrow. As we continue to walk the path of reconciliation, let us take a moment to reflect on and celebrate the diversity that makes Canada stronger."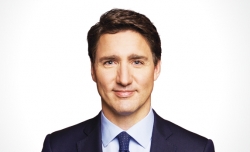 Latest posts by Justin Trudeau
(see all)