February 18, 1944 – October 22, 2023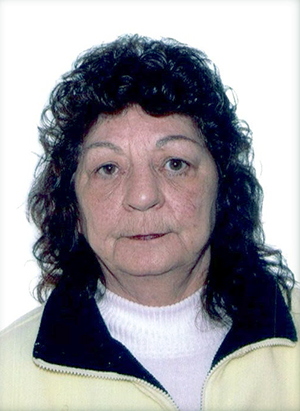 Kathryn Ann Funk (nee Zwozdesky) passed away peacefully on Sunday, October 22, 2023, with her husband, Herbert, by her side, holding her hand.
Mom was born at home on the farm in Parkerview, Sask. on February 18, 1944, rumour has it, it was a stormy night. Her family moved a few times within Saskatchewan but I seem to remember her talking about living in Carrot River the most.
Mom LOVED music, as did her family and extended family members. She would tell us stories about many family members gathering at the farm during the winter season, playing and singing for hours! Did you know that she sang backup for a band and cut an album? She often wondered what happened to her copy.
Sports were another love that she brought to us kids. We played A LOT of baseball with many families from the Mission as well as Wawa, joining in – what a blast! When I was about 8, mom was pitching and we were having a great game when the ball was hit into the outfield. As the ball was retrieved, someone called to her, she turned as the ball came toward her. It hit her in the nose so hard she passed out. Turns out her nose was broken!!
As most people knew though, her main love was her husband and children. There wasn't much she wouldn't do for us. Mom was an extremely hard worker. As most people who knew mom, she was a fantastic cook and baker. Her butter tarts were well-known far and wide!! My brother Rick could trade shifts at Algoma Ore with the promise of a few dozen butter tarts. He would pick up the ingredients and bring them to Mom and tell her he needed six dozen to trade a shift, giving away 2 dozen and keeping the remaining 4 dz for himself!! I think maybe she figured it out. She passed the recipe on to me and, apparently, I come pretty close! Mom loved to read, do puzzles, and spent MANY hours with a fishing rod in her hands – successfully too!
Left to cherish her memory are her husband, Herbert, sons, Nelson (Francia), Kelly, Richard (Clarissa) and daughters Penny and Tammy (Rey), 19 grandchildren and 27 great grandchildren, her sisters, Evelyn, Donna Mae and Elnor (Nigel), brothers Allan and Donald (Diane). Mom was predeceased by her parents Peter & Annie Zwozdesky, sister Irene & brothers Wasyl (Bill), Metro and Orest (Ernie).
A Celebration of Life for our mother will take place in 2024. Arrangements entrusted to Arthur Funeral Home – Barton & Kiteley Chapel (492 Wellington St. East, 705-759-2522). Memorial donations (payable by cheque or online) to the Sault Area Hospital Cancer Care Fund would be appreciated. Fond memories and expressions of sympathy may be shared at www.arthurfuneralhome.com for the Funk family.
We would like to extend a heartfelt thank you to the doctors and nurses at the Sault Area Hospital who have cared for her these past few trying years. A special thanks goes out to Nurse Jennifer, you are a very special person.
Rest in Peace, Mom, we love and will miss you greatly. Thanks for the memories.