August 8, 1923 – October 11, 2023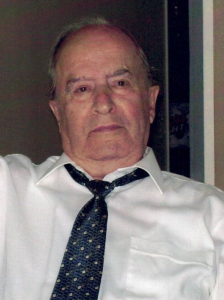 It is with broken hearts that the family of Roger Gendron announces his peaceful passing at the Lady Dunn Health Centre-Long Term Care in Wawa on Wednesday, October 11, 2023 at the age of 100 years plus 2 months and 3 days. He was granted his final wish – to be reunited with his beautiful wife, Eva (nee Allaire) whom he missed so dearly.
Roger is survived by his 8 loving children: Jocelyne (Henry), Mario, Liliane (Ken), Lynda (Wilfred), Conrad (Johanne), Gilles, Carol (Frank) and Nichole (Gary). Devoted grandfather to 14 grandchildren: Andre, Ryan, Derek, Durwin, Sara, Nathalie, Graham, Danielle, Dallas, Fayanne, Shawn, Tyler, Justin and Meghan. Proud great-grandfather to fifteen (15_ great-grandchildren: Shane, Samara, Rylee, Cadence, Linkin, Asher, Lucas, Alexander, Arya, Kori, Isaac, Parker, Harper, Haddie and Emersyn. Dear brother to Fernand Gendron and Rejeanne (Gendron) Desbiens. Roger is also survived by his four brothers-in-law and five sisters-in-law. Predeceased by his parents, the late George Gendron and the late Marie Fraser as well, he was predeceased by seven sisters and two brothers.
At the age of 20, Roger joined the army in Quebec and started his training. By the time he was supposed to go overseas, the war had ended. He worked many years in the old-fashioned logging business in Quebec. In early May of 1957, he decided to travel to Northern Ontario where his brother Fernand was working in White River. He was hired by the Canadian Pacific Railway where he worked for many years. His wife, Eva, and his four oldest children (ages 8 months to 4 years old at the time) followed and arrived from Quebec on May 31st, 1957. They added four more children to the family in the next five years that followed. When Abitibi-Price started building a sawmill in White River, he decided he needed a change. He was hired and continued to work until he retired in 1987.
Roger was truly a family man. He loved his family gatherings, huge at times, especially at Christmas. He loved hearing guitars playing and people singing. If he was having a bad day, music always made him giddy-up and go, tapping his feet and trying to sing along. He also had a great sense of humour and loved to make people laugh. He was a dedicated fan of the Montreal Canadians until his passing. Roger was a lifelong member of the Royal Canadian Legion joining in 1957. He was also very involved with St. Basil's Catholic Church and was the janitor there for many years. He was a great father, grandfather, great grandfather, and a true inspiration. He will be missed dearly by his family and all of the people that had the pleasure of knowing him.
Cremation has taken place at River's Edge Cremation Centre, Sault Ste. Marie. A Celebration of his life will be held at a later date.
The family would like to send a humongous thank you and thumbs up to all the doctors, nurses and cleaning staff for all the awesome care they gave Roger during his 2.5 year stay at the Long Term Care.
Arrangements entrusted to Kerry Funeral Home, Wawa.