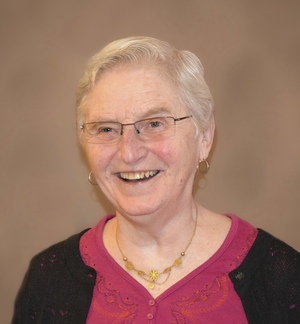 Patricia Cleary, retired elementary school teacher and librarian, died Saturday, August 12, 2023, at the Royal Ascot Care Centre in Vancouver, BC at 87 years of age after a very brief illness. Family was with her at the time. Patricia is predeceased by her loving and devoted husband Michael and by her brother William (Bill) Ruthven Snider. She is survived by her children, Catherine Rogers (Michael Sheard), Stephen Cleary (Tracey), and Pamela Cleary; and her grandchildren Laurel Rogers (Gerissen Tang), Sadie O'Hara (Griffin), and Charlie Cleary.
Pat was born in Brantford, ON in 1936 to parents Agnes Irene (Ruthven) Snider and Alton Fielding Snider and grew up in Gravenhurst surrounded by a close extended family.
Pat always did things her own way. After graduating from Teachers' College in Toronto in the mid-1950s, she accepted a teaching position at the elementary school in Wawa, ON when her colleagues were vying for positions in the Toronto area. To get to Wawa, her parents drove her to Sault Ste. Marie where she boarded the Algoma Central Railway freight train to Wawa. There was a shortage of hockey coaches, and being a hockey fan, she volunteered as a coach. Hockey was played in an open-air rink with very cold temperatures. She also taught English as a second language to Hungarian refugees working in the mine.
Pat met Michael, the love of her life, in Wawa. They were married in 1959 and began their adventures together. Catherine and Stephen were born in Wawa, and the family lived for a winter in the A-frame cabin that they built on Wawa Lake. The summer of 1964 brought a move to southern Ontario. Pamela was born later that year.
In 1968, they made the move to Gravenhurst. Pat continued her teaching career at Gravenhurst Public School. Later she took a job as a teacher librarian at Beechgrove School and took library science courses in the summer at U of T. In addition to teaching, raising a family, and helping Michael as a bookkeeper, Pat was active in amateur theatre, the Children's Aid Society, and the NDP.
In 1979 they moved into their 'forever' home, Home Pond Studio which Michael built just outside of Gravenhurst. During this time, they bought their first sailboat, a 28-foot steel-hulled sloop which they sailed on Georgian Bay and the Muskoka Lakes.
In 1985 after having accompanied Mike on a painting trip to the Maritimes, Pat first took a leave of absence and later retired from teaching to travel with him full-time. Their trips included six months in the Yukon and three months on Baffin Island. In 1987 they sold Home Pond Studio (so much for the 'forever' home) and, in 1989 after returning from Baffin Island, they moved to British Columbia and lived for a short time in Nanoose Bay.
In 1991 they purchased East Gate Lodge, a motel and restaurant in East Gate Manning Park. After the lodge building was destroyed in a fire in December of 1992, they converted another building on the property into a restaurant that they ran until they sold the property.
In the mid-90s, they bought a 30′ catamaran sailboat and began sailing in the BC inside passage. In 2000 and 2001, they completed a two-part circumnavigation of Vancouver Island. In 2003 they bought a house in Port Alberni and continued their sailing adventures in the Alberni Inlet and the Broken Island Group, also going on wilderness camping trips. Pat would hike, kayak, and look after Michael while he painted.
2016 brought a move to an apartment overlooking a park in Vancouver. In the summer of 2022, they both became ill with COVID and spent almost six weeks in hospital before being discharged together to the Royal Ascot Care Centre where they shared a room. They had rarely spent time apart since the mid-80s when Pat started accompanying Mike on his painting trips.
After Michael died in March Patricia was rather lost without him, but now they are together again, which is a consolation to their family.
Pat always fully appreciated life; it was 'wonderful'. She made friends and 'adopted' people everywhere she went. She loved visits with family and friends both at their homes in BC and during frequent visits to Ontario. She indulged her love of children's books reading to her grandchildren when they were little. Her favourite activities included hiking, kayaking, generally being outdoors, reading and photography. Her favourite place was the cabin in Wawa.
Patricia is deeply missed by her family. A celebration of the lives of Patricia and Michael will be held in Gravenhurst at a date to be determined, probably in the summer of 2024. In honour of Patricia's memory, donations could be made to the Alzheimer Society of British Columbia at https://alzheimer.ca/bc/en/take-action/donate or the Heart and Stroke Foundation of Canada at https://app-hsfdonation.heartandstroke.ca/.
Visit Amherst Funeral & Cremation Services Inc. to see the obituary, events and guestbook.