September 17, 2023
Ottawa, Ontario
The Prime Minister, Justin Trudeau, today issued the following statement on Gender Equality Week:
"Today, Canadians mark the beginning of Gender Equality Week, which runs until September 23. This week, we celebrate the progress made in advancing gender equality, recognize the significant achievements of women and gender-diverse people, and reaffirm our commitment to building a more equitable, just, and inclusive Canada.
"When everyone has equal rights and access to opportunities, we all benefit. This year's theme, 'United for Gender Equality: Stronger Together', reminds us that Canadians must stand together as we continue to work toward a future where people of all genders – women, men, and gender-diverse people – are equal and can achieve their full potential.
"Here in Canada, we have made great strides in advancing gender equality, but we know there is more work to be done. That's why we have reached $10-a-day regulated child care on average for families in nearly half of the provinces and territories, and we have cut fees at least in half in all other jurisdictions. Our plan has helped boost women's participation in the workforce to a record high. We also continue our work to address and eradicate gender-based violence through our National Action Plan to End Gender-Based Violence, which aims to address the root causes and provide better supports for victims, survivors, and their families.
"We know the fight for gender equality goes beyond our borders. That's why the Government of Canada continues to promote and defend the interests of women, girls, and gender-diverse people abroad through its Feminist International Assistance Policy, which, among other actions, seeks to amplify their voices and leadership and enhance their access to sexual and reproductive health care.
"This Gender Equality Week, let's celebrate how far we've come, recognize the work that remains to be done, and recommit to building a future with equal opportunities for everyone. I encourage all Canadians to use the hashtag #GenderEqualityWeek and share what they are doing to build a fairer Canada."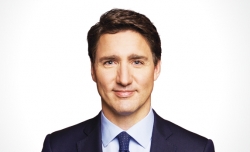 Latest posts by Justin Trudeau
(see all)