June 20, 2023
Ottawa, Ontario
The Prime Minister, Justin Trudeau, today issued the following statement on World Refugee Day:
"Everyone deserves a safe place to call home. Today, on World Refugee Day, we recognize the strength and resilience shown by refugees, and we reaffirm our commitment to welcome and protect them here in Canada.
"Today, there are more than 100 million people who have been forcibly displaced from their homes. And Canada is stepping up: In 2022, for the fourth year in a row, we were the top country in the world to resettle refugees. Last year, Canada resettled over 47,500 refugees from over 80 countries, and since 2021, we have welcomed over 33,000 vulnerable Afghans fleeing persecution from the Taliban. We remain committed to resettling at least 40,000 Afghan refugees by the end of this year – one of the largest commitments in the world.
"Canada will also continue to welcome Ukrainians fleeing Russia's brutal invasion and provide the services and support they need to thrive in communities across the country. And earlier this month, we partnered with Rainbow Railroad to help LGBTQI+ people and their families find safety in Canada.
"By protecting those fleeing violence and persecution today, we can provide newcomers with the opportunity to feel safe and contribute to Canada's future. Today, we come together as Canadians to keep our country a welcoming place and help build a safer world for everyone."
Learn how to apply for refugee status from within Canada, find out how to come to Canada as a refugee, sponsor a refugee, or find refugee services in Canada at Canada.ca/refugees.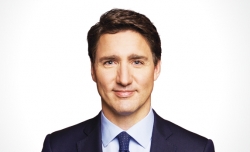 Latest posts by Justin Trudeau
(see all)