May 7, 2023
Ottawa, Ontario
The Prime Minister, Justin Trudeau, today issued the following statement on the death of the Honourable Marc Lalonde:
"Today, it is with great sadness that I learned of the passing of the Honourable Marc Lalonde, a giant of Canadian politics.
"Marc was so many things, but above all, he was a proud Canadian – and he exemplified it. First elected in 1972 as the Member of Parliament for Outremont and then appointed Minister of National Health and Welfare, he helped shape the Canada we love today by transforming the way we think about health. He published a groundbreaking report, later dubbed the "Lalonde Report," which recognized that promoting good health meant promoting healthy lifestyles and environments too – a now widely-accepted idea that has changed and saved lives here in Canada and around the world. Marc also served in a number of other cabinet positions, including finance, justice, sport, and status of women, where his deep commitment to the wellbeing of Canadians and people around the world continued to shine through.
"I remember him and my father sitting around our dinner table, having long and engaging debates on anything and everything – including our country, its people, and its future. He was a good friend of my father's, and it was clear he had a lot of respect for Marc. As I grew up and came to know him myself, I did too.
"Marc's commitment to public service was lifelong. In 1988, he received the World Health Organization Medal for his exceptional contributions to health policy. The following year, he became a Companion of the Order of Canada. He worked as an ad hoc judge at the International Court of Justice, remained active in local public health services, and was inducted into the Canadian Medical Hall of Fame in 2004. He worked tirelessly to better the lives of Canadians, and his passing is an enormous loss for our country.
"On behalf of the Government of Canada, Sophie and I offer our deepest condolences to Marc's family and friends. His legacy to Canada is impossible to overstate."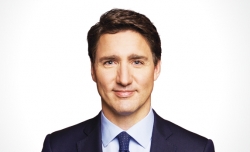 Latest posts by Justin Trudeau
(see all)