Canada's NDP has put forward a motion in the House of Commons it says is critical for Northern Ontario: hire more doctors and nurses in Northern hospitals, or allow privatization to lure them away?
According to the Ontario Medical Association, Northern Ontario is short of at least 300 doctors, and emergency rooms are consistently closed due to staffing shortages. Experts are clear that Premier Doug Ford's pursuit of for-profit care would poach workers out of the public system, making wait times even longer for patients.
"We don't get the same services here in the North, especially for health care," said NDP MP Charlie Angus (TImmins-James Bay). "Companies are popping up and charging 70 bucks for a virtual doctor appointment or $30,000 for a hip replacement. They're preying on desperate people with nowhere to turn and the Conservatives and Liberals are letting it happen. These for-profit corporations  will only make things worse by pulling our doctors, nurses and other health-care workers out of the public system."
The motion also calls on Members of Parliament to express disappointment in Prime Minister Trudeau's promotion of Ontario's for-profit health plans as "innovation" and to ensure all money in the health care agreement with the provinces goes towards the public system and hiring more workers into it.
"People are rightfully worried. They're concerned about the state of Northern Ontario's health-care system, the shortage of family doctors, and the strain that staffing shortages put on our hospitals and emergency rooms," said NDP MP Carol Hughes (Algoma—Manitoulin—Kapuskasing). "That's why in Ottawa, we're demanding leadership to take on Conservative premiers like Ford, who want to line the pocket of his wealthy investor friends. We're demanding all parliamentarians to choose: do you stand with our public system and hiring more workers, or draining it for the profits of giant corporations?"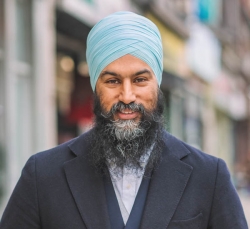 Latest posts by New Democratic Party
(see all)