NEW BOOKS ON THE 7 DAY SHELF this week are; "Fire and Blood" by George R.R. Martin, "The Clockmaker's Daughter" by Kate Morton, "Never Tell" by Lisa Gardner and "Connection in Death" by J.D. Robb.
STAFF PICKS FOR THE MONTH OF FEBRUARY ARE; "The Late Show" by Michael Connelly, "The Little Old Lady who Broke all the Rules" by Catharina Ingelman-Sundberg, "Day Into Night" by Dave Hugelschaffer and this week's feature is "The Impossible Dead" by Ian Rankin (from book jacket) The Complaints: that's the name given to the Internal Affairs department who seek out dirty and compromised cops, the ones who've made deals with the devil. And sometimes The Complaints must travel.
A major inquiry into a neighbouring police force sees Malcolm Fox and his colleagues cast adrift, unsure of territory, protocol, or who they can trust. An entire station-house looks to have been compromised, but as Fox digs deeper he finds the trail leads him back in time to the suicide of a prominent politician and activist. There are secrets buried in the past, and reputations on the line.
In his newest pulse-pounding thriller, Ian Rankin holds up a mirror to an age of fear and paranoia and shows us something of our own lives reflected there.
AFTER SCHOOL PROGRAM is well underway but we always welcome new participants!!  This is open to children up to the age of 13. Children aged 5 and under must be accompanied by an adult. We have Story and Craft Club on Tuesday, Clay Club on Wednesday, Drawing Club on Thursday and Game Club on Friday.  The program runs from 3:30 – 4:30 pm. For more information call Suzie at the circulation desk at 705-856-2244 ext 290. Please remember the After School Program is free of charge!
PLEASE NOTE THAT THE AFTERSCHOOL PROGRAM IS CANCELLED FOR THE WEEK OF FEBRUARY 25th.  WE APOLOGIZE FOR THE INCONVENIENCE.
WAWA PUBLIC LIBRARY CARNIVAL BUG BOOKLET WINNERS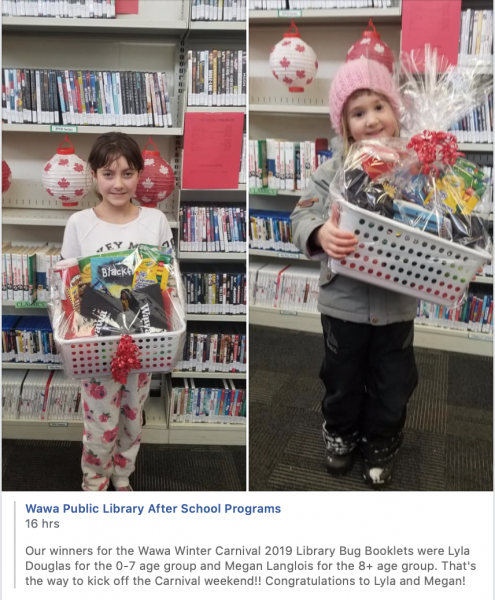 Thank you to everyone who participated in our Carnival Bug Booklet Contest.  We hope everyone had fun learning about and drawing different bugs!
Congratulations to our winners Lyla Douglas (0-7) and Megan Langlois (8+)!
SLEEPY TIME STORY TIME: Our next Sleepy Time Story Time will be held in April!!  Stay tuned for more details!
NATIONAL LIBRARY WEEK:   National Library Week is coming in April. Watch for more activities coming to the Wawa Public Library during National Library Week!
BOARD MEETING: The Wawa Public Library next monthly Board Meeting will be held on Monday March 18, 2019 at the Wawa Public Library beginning at 7:00 p.m.  All are welcome to attend!
The Wawa Public Library (WPL) has a great selection of books, periodicals (magazines), DVD's, Blu-rays, audiobooks, French books, and Children's collection!
The Library offers photocopying, faxing, laminating, printing, and VHS to DVD conversion. Free WiFi is available at the library, with 4 public computers and 3 iPads for public use.The Wawa Public Library also recycles your batteries and ink cartridges!
WPL has a Drop Box for returns when the library is closed. Please remember the drop box is for library materials only.
Online - WPL (wawa.olsn.ca), Wawa History page ( www.wawahistory.wawa.cc). The WPL also has a Facebook Page and one for the Summer Program, posting daily to keep you updated.Be sure to check out our E-Resources page.
Free WiFi is available at the library with 4 public computers and 3 iPads. Contact Zoe for computer, tablet and cell phone help.
LIBRARY HOURS are Monday 11:00 a.m. – 5:00 p.m., Tuesday, Wednesday and Thursday 11:00 am –7:00 pm, Friday 11:00 am-5:00 pm and Saturday 11:00 a.m. – 4:00 p.m.Please note that effective July 1st the Wawa Public Library will be closed on Mondays.
TELEPHONE – 705-856-2244 ext. 290 for the circulation desk or ext. 291 for the librarian's office, or email at
[email protected]
LIBRARY MEMBERSHIP is FREE to residents of the Municipality of Wawa and contracting communities.We can also issue a non-resident library card for a fee of $10.00 per month or $95.00 per year.
Latest posts by Wawa Public Library (see all)