Last night, December 3rd, the 2018-21 Wawa Municipal Councillors took their oath of office.
Acting CAO Cathy Cyr brought the meeting to order, and took oaths from Councillors Bill Chiasson, Micheline "Mitch" Hatfield, Robert Reece, Pat Tait, and aclaimed Mayor Ron Rody.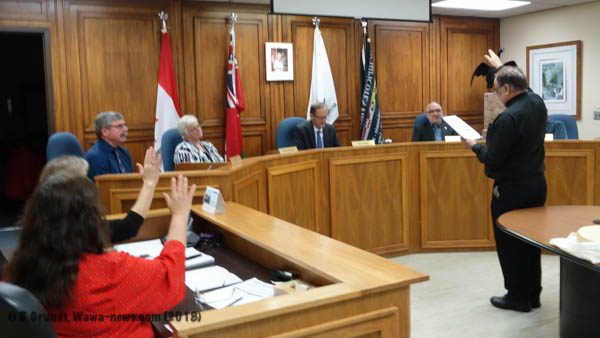 Reverend Peter Chalykoff began by saying that this was an honour, the third council that he has blessed. As he read the prayer, he asked that everyone lift their right hand to help pray and bless them.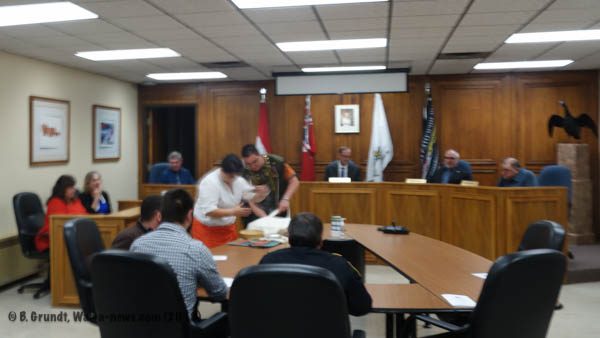 Mayor Ron Rody then welcomed Doris Jacques and Brian Outinen. Brian offered congratulations to Council, and then Doris smudged the room, and the tobacco ties in the North. Brian explained that by smudging the room it would remove the negative energy allowing the positive energy to reenter. With Doris drumming, Brian sang a Honour Song for the new council. Brian asked that Council remember the teachings of the Goose – geese fly in a v-formation allowing each goose to see ahead, but that as a team and changing lead they can fly longer.
Each Councillor was then given the opportunity to speak.
Bill Chiasson – Thank you Mayor Rody. I look forward to working with the new council, and I hope that we can serve you guys to the best of our abilities and do all we can for our beautiful town of Wawa. Thank you very much, and thank you for showing up tonight. Thank you.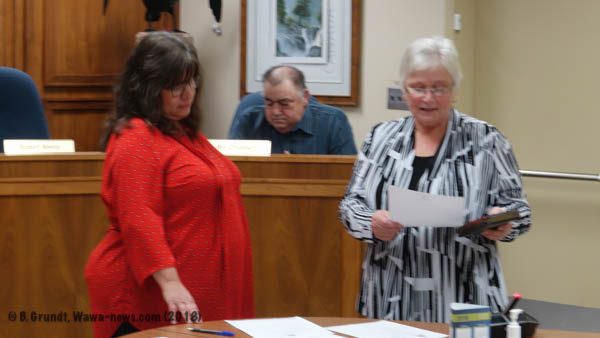 Mitch Hatfield – I'd like to thank everyone who voted for me once again. I'm really excited to be on Council, cause I've gone for so long, it's going to be different being on this side. Again, I'm really looking forward to meeting everybody that works for the town. I'd love to talk to them, I'd like to see what they do, and I'm just really happy to be here and I am going to do the best I can.
Mitch then spoke in french thanking everyone who voted for her.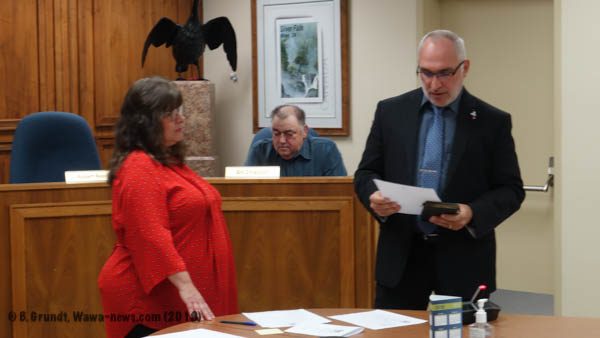 Robert Reece – I'd just like to thank everyone who voted for me. I know I'm new here, and I'm very honoured to be sitting up here. I'm looking forward to working with these people up here. I have talked to all of them a few times, becoming friends, and getting to know how eachother thinks a little bit. That's going to be the key to the next four years. Thank you.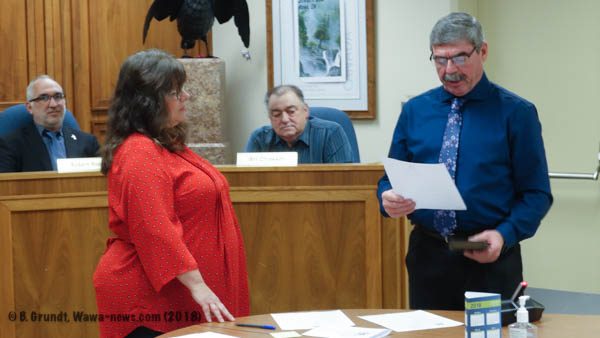 Pat Tait – First of all, I'd like to congratulate all the incoming councillors and mayor to their new roles to represent our community and our people for the next four years. I'd like to thank all the members of the community that voted for me to represent them for the next four years. As a new council, we have some challenges on our plate. We're going to have to make some decisions, some might like, and some might not like. We're going to make them in the best interest of our community. Decisions will be based on facts, data and advice from municipal staff. I'm excited to be a member of the new council, I will engage with municipal staff to embrace energy and work together to make Wawa an awesome community to live it. As Henry Ford once said, "Coming together is a beginning, keeping together is progress, working together is success.". Thank you.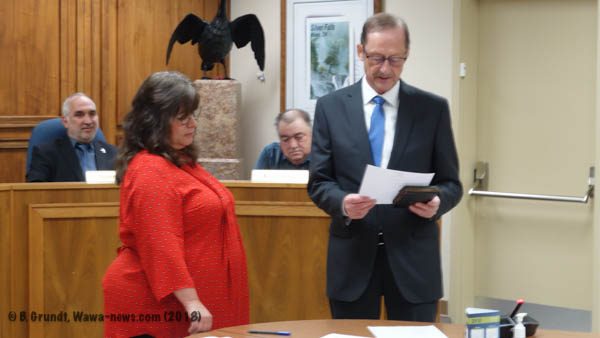 Ron Rody – I just want to again thank the people of Wawa for their support in allowing me the next four years as their Mayor. I'm looking forward to working with this council. I think there is a lot of talent, a lot of energy up here. For sure we will have challenges, but there are also opportunities up there. We are fortunate to be working with a community staff that's very talented, dedicated and hard-working. I think we can solve those challenges and meet those opportunities and develop our community. We choose to live in this part of world, this very beautiful part of the world, and I think our job is to make it as comfortable and as rewarding for everybody who chooses to stay in our community. It's a very welcoming, loving community. You know, when you meet challenges in your own life, it's wonderful being in a community like Wawa because there are so many kind people that reach out to you and support you in so many different ways. So we are very fortunate to be in this town. And for that reason, I think it's easy for us to put in the hours to work, to make it a better place for all of us. We look forward to  doing that in the next four years. Thank you for being here.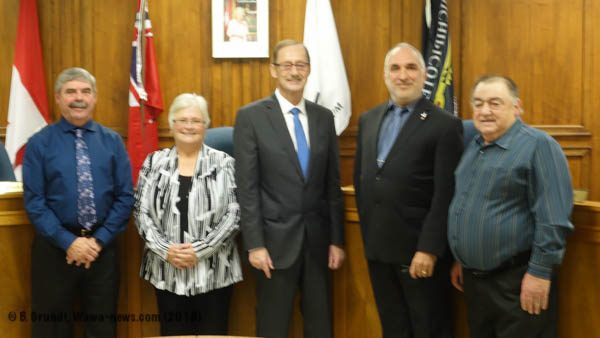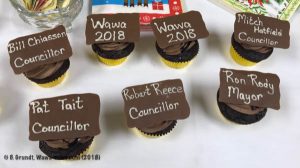 The meeting then continued with the resolution to approve the declaration of office and closed the meeting.
A small meet and greet was celebrated with punch and cupcakes.
Latest posts by BrenAdmin (see all)