Harte Gold is pleased to announce its 2018 third quarter ("Q3") results ended September 30, 2018.
Mr. Stephen G. Roman, President and CEO of Harte Gold stated, "Harte Gold is pleased to report significant achievements towards commercial production. Ramp-up of the mill continues successfully and stope production has now started. We remain on track to declare commercial production this quarter."
HIGHLIGHTS
All commercial production permits were issued in September.
Process plant construction and transition to grid power were completed in September.
First gold bar was poured in October.
Process plant commissioning was completed in early November and ramp-up of the plant to targeted throughput continues.
Official Mine Opening attended by the Premier of Ontario and Minister of Energy, Northern Development and Mines October 24th.
Stope production underground has started, the first production blast was completed in early November.
The Company bought down the royalty on the Sugar Zone property from 3.5% to 2.0% effective October 31, 2018.
Near mine exploration:
o Infill drilling is now complete. Results are being incorporated into an updated NI 43-101 Mineral Resource Estimate.
o Step-out drilling will continue until mid-December and has been successful extending mineralization on strike and down dip at both the Middle and Wolf Zones.
o DownholeIPtargetsarebeingdrilltestedwiththeobjectiveofextendingtheMiddleZoneonstrikeand testing convergence of the Middle and Wolf Zones at depth.
o Deep drilling below the Sugar Zone is also underway, and will test down dip mineralization.
OUTLOOK
The tailings management facility and paste fill plant will be completed in Q4 2018.
Declaration of commercial production is targeted for December 2018.
Mine planning for 2019 and life-of-mine is underway, guidance will be provided early in 2019.
Updated NI 43-101 Mineral Resource Estimate targeted for early 2019, following completion of a 90,000 meter drill program in 2018.
NI 43-101 Feasibility Study targeted for Q1 2019.
PROCESS PLANT COMMISSIONING
Process Plant commissioning began in August following completion of construction. Since that time the Company has increased throughput to achieve the initial targeted rate of 575 tpd.
First gold production was announced in mid-October. Gold doré bars are being produced through the gravity circuit and a high grade concentrate is being produced through the flotation recovery circuit for off-site processing.
UNDERGROUND MINING
Sill development is on-going and long-hole stoping between the 140 and 155 levels off the Sugar Zone South ramp has begun. The first production stope blast was successful and the results met expectations in terms of rock fragmentation.
Underground development continues at the Sugar Zone North and South ramps. During September, the average advance rate of 8 meters per day was ahead of plan. The installation of critical underground infrastructure to support ventilation, power and pumping has been completed. In addition, the mine return air ventilation fan was successful installed and the transition to grid power for the majority of site power requirements substantially completed. Redpath is ramping up its underground mine personnel to achieve targeted sill development rates. Harte Gold's current permits allow for underground mining and mill processing rates of 550 tpd and 575 tpd respectively. Harte Gold will submit an application to increase both categories to 800 tpd in Q1 2019.
EXPLORATION
Infill drilling at the Sugar and Middle Zones for 2018 has concluded. Approximately 62,000 meters was drilled with a focus on the upgrade of Inferred Mineral Resources to the Indicated category. The drill program was successful and is expected to improve overall modelled grade of the Resources. Assays were published over the course of 2018 (see press releases dated July 23, 2018, May 23, 2018, March 18, 2018 and January 8, 2018). Assays will be factored into an updated NI 43- 101 Mineral Resource Estimate targeted for early 2019.
Step-out drilling underway will continue to mid-December. Approximately 30,000 meters has been drilled to-date, targeting extension of known mineralization at the Sugar, Middle and Wolf Zones, as well as discovery of new potential zones of mineralization like the Fox Zone.
Information provided from the Company's downhole IP program completed in August has been successful identifying a number of drill targets, including a chargeability anomaly currently being drilled to test the convergence of the Middle and Wolf Zones, illustrated below. Downhole geophysics has been a highly successful tool used in the past, earlier work led to the deep Sugar Zone discovery at a depth of 1,000 meters.
The Company has also started deep drilling at the Sugar Zone, approximately 1,500 meters below surface and 500 meters below the current extent of Inferred Mineral Resources, illustrated below. The intent of deep drilling is to test continuity of mineralization down dip and to potentially follow up with further downhole IP to develop deep drilling targets.
Harte Gold is Ontario's newest gold producer through its wholly owned Sugar Zone Mine in White River, Ontario. Using a 3 g/t gold cut-off, the NI 43-101 compliant Mineral Resource Estimate dated February 15, 2018, contains an Indicated Mineral Resource of 2,607,000 tonnes grading 8.52 g/t for 714,200 ounces contained gold and an Inferred Mineral Resource of 3,590,000 tonnes, grading 6.59 g/t for 760,800 ounces contained gold. The Company is currently completing a 100,000 metre drill program on near mine and exploration targets, results of which will be incorporated into an updated NI 43-101 compliant Mineral Resource Estimate and mine plan targeted for 2019. Exploration on the Sugar Zone property includes 83,850 hectares encompassing a significant greenstone belt.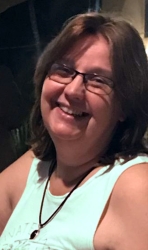 Latest posts by Brenda Stockton
(see all)