Jun 22, 2018 @ 11:04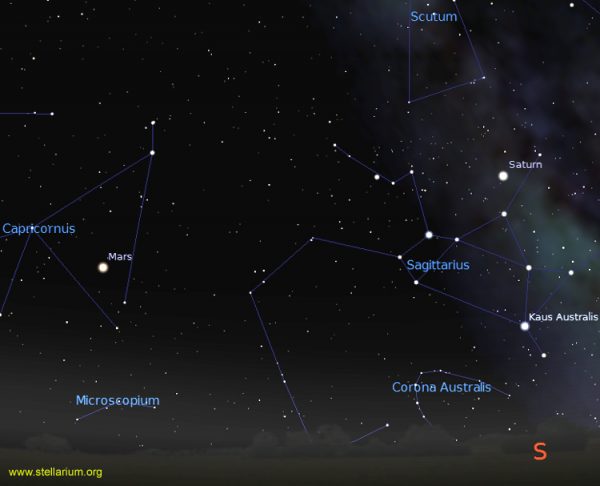 Hands down the biggest celestial event of the year will take place on the night of July 27 – the closest approach of Mars since 2003. The red planet is now seen rising in the south-east at midnight local time and will continue rising a bit earlier each night until the big night when it is up at 9:15 p.m. local time and close to the full moon.  Follow Mars now as it continues to brighten over the next few weeks and will be even brighter than the planet Jupiter.
Ever since the Italian astronomer Giovanni Schiaparelli claimed to have seen "canals" that he called "canali" on Mars in 1877 suggesting these could be artificial structures hence a possible civilization, we have had a fascination with the search for life. Of course, science fiction writers and movie makers have had a field day with suggestions of alien life namely "Martians".
Mars is the only planet we can explore and plans are in the works to send the first human mission in 2024 – estimates from Elon Musk. A one-way trip even when the two worlds will be closest in January 2025 the trip will still take seven months.
Gary Boyle is an astronomy educator and lecturer with a never-ending passion for the night sky. He is past President of the Ottawa Centre of the Royal Astronomical Society of Canada and has been interviewed numerous times on Canadian radio stations. The International Astronomical Union has officially named asteroid (22406) Garyboyle for his dedication to public education and the RASC over the past decades.
Latest posts by Gary Boyle
(see all)