Jun 11, 2018 @ 11:10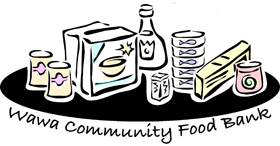 Although warmer weather has arrived and life should be easier for everyone after our long winter, Wawa Community Food Bank has experienced a disturbing increase in client need over the spring and early summer. As many as 76 individuals have been served in one week and the number of households requiring assistance, many of which include children, can run as high as 45. Fortunately, the community is behind our efforts to alleviate hunger and the volunteers wish to thank those who have made contributions.
Support comes in many forms, all of which are appreciated and make a difference.
Tracy Blackmore of Wagging Tails Kennel has donated many bags of pet food. Carol Routledge and Gary Sache have donated multiple flats of eggs. Marion Paterson and Gerry Spreng have contributed their Loblaws bread rebate Optimum cards. Wayne Roberts has supplied food, clothing and household items. Both Wendy Jarvis, mother of the United Church student minister Roberta Howey and our own Doctor Dannica Switzer have been very generous in their financial aid. Thank you to all for your kindness.
Thank you as well to: JJAM FM for website advertising; Brian Lachine and the Municipality of Wawa for the apples, oranges and bananas originally designated for the James Bay evacuees; Legion Ladies Auxiliary for a financial contribution; Men's Curling Bonspiel for donated sausages; Saint Joseph's French Immersion School for the many bags of fresh cut fruit and vegetables; SUBWAY for bread products; Superior Children's Centre for the many Valu Mart gift cards and Valu Mart and patrons for filling the designated food cart and help in many ways. This assistance has certainly benefitted all of our clients.
The Wawa Family Health Team, through the nurses Jolene Binda, Maria Dupuis, Renee Mellish, Katey Wright and dietician Jenelle McAuley provide diabetes education, blood sugar testing and blood pressure monitoring. Our clients are fortunate to have these services available to them at the food bank site. Thank you again to the EDC for providing the space for this endeavour.
Sometimes volunteers are asked about who attends our local food bank. Our clients include the working poor, the unemployed, the disabled, seniors, children, those suffering from mental health issues and addictions, those struggling to retain housing and pay their bills. Some rely on the assistance with regularity while others may use the service only once. Whatever the reason for the hardship, our community is exceptional in its care for those in need.