May 26, 2018 @ 00:35
At 10:48 p.m. 511ONNorthwestern tweeted "cleared: #Nipigon #Hwy11/17 at the Nipigon Bridge, WB lane opened."
May 25, 2018 @ 22:17

May 25, 2018 @ 20:43
Schreiber Fire is saying "the NE corner (westbound lane) has lifted. Flaggers in place now. Traffic will be alternated in the eastbound lane. One lane traffic for now.
May 25, 2018 @ 20:44
Wawa-news is trying to find out more information about this situation.
Schreiber Fire Department is saying that the expansion joint has let go on the east side of the bridge. There is no other information available.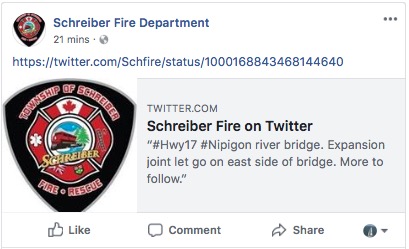 Latest posts by BrenAdmin
(see all)