Jan 3, 2018 @ 07:57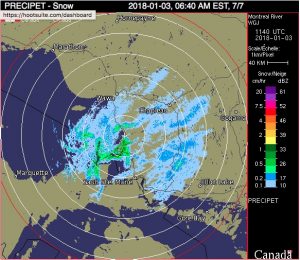 Weather:
Today – Periods of snow ending early this morning then a mix of sun and cloud with 30 percent chance of flurries. Local amount 2 cm. Wind northeast 30 km/h gusting to 50. Temperature falling to minus 22 this afternoon. Wind chill minus 36.
Tonight – A few clouds. Wind northeast 20 km/h gusting to 40 becoming light overnight. Low minus 30. Wind chill minus 42.
Snow squall warnings have ended between Wawa and Sault Ste. Marie, however the radar imagery at Montreal River suggests that snow is still falling, drive safely.
Roads:
| | | | |
| --- | --- | --- | --- |
| | 2018-01-03 – early morning report | | |
| 101 | Timmins to Highway 144 | partly snow covered with partly snow packed sections. | 2018-01-03 2:35 |
| 101 | Highway 144 to Shawmere River | snow covered | 2018-01-03 2:36 |
| 101 | Shawmere River to Highway 651 | snow packed with snow covered sections. | 2018-01-03 5:44 |
| 101 | Highway 651 to Wawa | snow covered with snow packed sections. | 2018-01-03 5:43 |
| | | | |
| 129 | Thessalon to Aubrey Falls | snow covered with snow packed sections. | 2018-01-03 5:37 |
| 129 | Aubrey Falls to Chapleau | snow packed with snow covered sections. | 2018-01-03 5:44 |
| | | | |
| 17 | Sault Saint Marie North Limits to Montreal River Bridge | snow covered with snow packed sections. Poor visibility. | 2018-01-03 5:41 |
| 17 | Montreal River Bridge to Wawa | snow covered with snow packed sections. | 2018-01-03 5:43 |
| 17 | Wawa to Paint Lake Rd | snow covered with snow packed sections. | 2018-01-03 5:43 |
| 17 | Paint Lake Rd to Southwest of White River | snow covered with snow packed sections. | 2018-01-03 5:43 |
| | | | |
| 519 | Highway 17 – Dambrossio Township to Green Lake Road – Dunphy Township | snow covered with snow packed sections. | 2018-01-03 5:43 |
| | | | |
| 547 | Highway 101 to Hawk Junction | snow covered with snow packed sections. | 2018-01-03 5:43 |
| | | | |
| 631 | White River to Highway 11 | snow covered with snow packed sections. | 2018-01-03 5:43 |
| | | | |
| 651 | Highway 101 to Missinabi | snow packed with snow covered sections. | 2018-01-03 5:44 |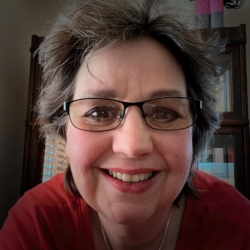 Latest posts by Brenda Stockton
(see all)