Oct 4, 2017 @ 08:03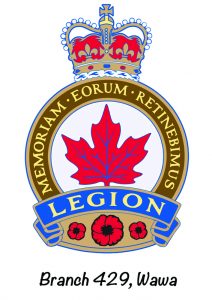 Boy was that something those Invictus games in Toronto! And the closing speech of Prince Harry where he instilled pride and a look at the future in all those young veterans who are carrying the scars of their battles both physical and mental. It makes you think, and be proud to be a Legion member where those wounded veterans can come and get support and help where the Government falls short. So anyone who would like to do some good work and help the veterans come and join the Legion wherever you live, and help your community at the same time.
Last Thursday  the Wawa EDC had a Bossy Woman's night and sold raffle ticketson donated door prizes. They collected $326.00 for the "lift for the Legion" campaign. A special thank to Sandra Weitzel, Heidi McLaren, Jesse Labonte and Maury O'Neill. The profit of the sale of Margaritas was also donated to the campaign.
Last Saturday's cribbage winners were 1st – Sandra and Alma, 2nd – Erin and Joan;  3rd – Irene and Carol; and boobs were Iris and Cliff.
Our next Membership Meeting will be on Thursday, October 12th, when we will also have our Branch Inspection and the Zone officers will also attend our meeting. So come out and be proud of what we have accomplished.
There is a Fish Fry Planned for October 27th.
John asked his friend Pete "Do you believe in UFO s?"  
"Yes".. answered Pete.
"And have you ever seen one?"
"Not since my divorce!"
To all our Comrades sick at home, in the hospital or nursing homes you are in our thoughts and prayers and we wish you well.

Latest posts by Nick Veldt
(see all)