Apr 27, 2017 @ 22:38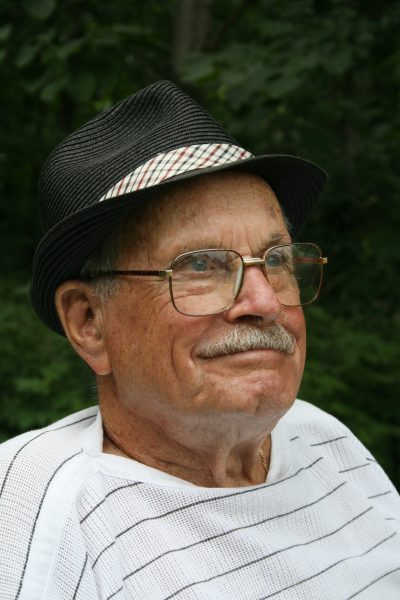 "OFF WE GO".  This was an oft heard comment cheerfully proclaimed by  Norman Roussain as he headed out on yet another outing with his family.
It is with deep love and sadness that Cheryl Roussain Nice, Deanna and Craig Roussain,  children of Norman Francis Roussain and Caroyl Jo (Carson) Roussain announce Norman's passing on Friday, April 14, 2017.  Whilst at the height of enjoying  his 97th year involved in outdoor winter activities,  making new friends and being nurtured by his family in Red Deer, Alberta;  Norman unexpectedly succumbed to lung cancer.
Up to his last days, Norman shared his witty humour and loving hugs with the entire family including Bob Coffey, husband of Deanna, Lynda Moore, wife of Craig,  his grandchildren, Malia and Kelcie Nice, Alida, Jody and Wyatt Roussain and his great-grandson, Toby Roussain Hope.
In his  96+ years, Norman touched the hearts and the minds of so many who remember him with deep respect for his  unshakable honesty, his integrity and his fairness.  He was a man who looked at life situations from many sides and never had a critical word to say about anyone.  His humble demeanour belied an inquisitive, brilliant mind that grasped philosophical concepts well ahead of the times.  Growing up,  kitchen table talk opened our minds to thought provoking ideas about eternity, infinity, world affairs.  Always there was an underlying theme of compassion and a deep understanding of human nature.
Norman impressed all who met him with his witty humour and his spontaneous recitations from memory of complete ballads and poems heard over a lifetime.
Following the passing of his first wife Caroyl Jo (Carson), Norman married Joyce (Westwood) Seyler who also preceded him in death.  Joyce's daughter Lisa and son in law Paul Wright and their two sons Aiden and Brandon from Sault Ste. Marie share our sadness in saying good bye to this proud, noble man.
Norman, was the second born child of Mabel (Sherlock)  and Francis Roussain.  He will be missed by his surviving siblings Jack Roussain in Wawa, Marvin Rathbone and Nancy Tibbles from Sault Ste. Marie. A celebration honouring Norman and his legacy as a member of the long-standing Roussain fishermen family will be held at the Royal Canadian Legion – Branch 429 in Wawa in the fall of 2017.