Feb 24, 2017 @ 7:24 p.m.
At 6:27 p.m. the OPP Communications Centre tweeted that Highway 17 is now open. There was no press release issued to media.
Feb 24, 2017 @ 5:16 p.m.
North Bay OPP Communications Centre has confirmed that the highway is open to one lane. Wawa-news had not received a press release stating that the highway was one lane open, only the tweet. The Communication Centre stated that OPP will notify media when the highway is completely open with a press release.
Feb 24, 2017 @ 4:04 p.m.
At 4:02 NE Region OPP tweeted "UPDATE: ROAD CLOSURE: Hwy17 between Pinewood Dr & Michipicoten River Village Rd #Wawa – 1 lane of traffic is OPEN."
Feb 24, 2017 @ 3:39  p.m.
Highway 17 has been reopened to one lane. Flaggers are at the scene conducting traffic.
Feb 24, 2017 @ 2:10 p.m.

Feb 24, 2017 @ 2:05 p.m.
Highway 17 remains closed at this time.
Feb 24, 2017 @ 9:51

Feb 24, 2017 @ 08:28
As Wawa-news turned around to leave, these two photographs were snapped with a long lens. You can see the truck on it's side.
The fire truck is preparing to leave the scene, and is blocking view of the truck. However, behind the truck you can see what appears to be snow scattered over the highway.
The barricades are now up blocking travel south to Sault Ste. Marie. Wawa-news cannot tell how long the highway will be closed.
However, because the truck was carrying explosive materials the closure may be lengthy. The Wawa Fire Department is at the scene assisting. The collision site is just past the Fort Friendship turnoff, at the first rock cut – where construction was happening last summer/fall to widen the highway.
Superior East OPP are requesting that the public remain away from this area. This will allow crews to work as quickly and as safely as possible. The O.P.P. will distribute details and updates of the road advisory as information becomes available.
Wawa-news will continue to update this story throughout the day.
Feb 24, 2017 @ 08:11

Feb 24, 2017 @ 07:54

Feb 24, 2017 @ 07:42
Highway 17 is closed at this time 14 km south of Wawa due to a tractor-trailer rollover.  Wawa-news.com has been asked to leave the scene because this truck is carrying explosive materials.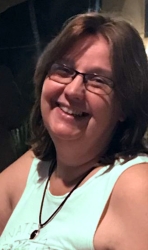 Latest posts by Brenda Stockton
(see all)