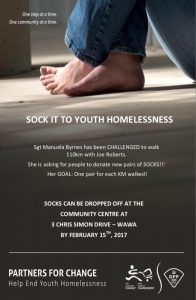 Sgt. Manuela Byrnes has been challenged to walk 110 kilometres with Joe Roberts!
She is asking the community of Wawa to donate new socks. Her goal is to not only walk the 110 kilometres with Joe, but to collect a pair of socks for each kilometre walked.
Your donation of new socks can be dropped off at the Michipicoten Memorial Community Centre, 3 Chris Simon Drive, Wawa by February 15th, 2017.
Joe Roberts and Push for Change will be in Wawa, February 15th for the following events that are open to the public and FREE!
9:30 a.m. – 10:00 a.m. – Arrival. Warm beverages provided to all attendees.
10:00 a.m. – 11:00 a.m. – Opening ceremonies including a Ceremonial Dance performed by members of the Michipicoten First Nation and an inspirational talk from Joe Roberts about his journey and youth homelessness.
11:00 a.m. – Charity Hockey Game: Local Emergency First Responders vs the Wawa Midget Legionnaires hockey club.
12:00 p.m. and 2:00 p.m. – Local youth service providers will have information and table displays in the banquet hall of the Community Centre.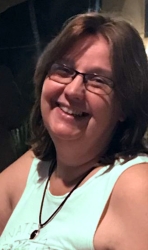 Latest posts by Brenda Stockton
(see all)