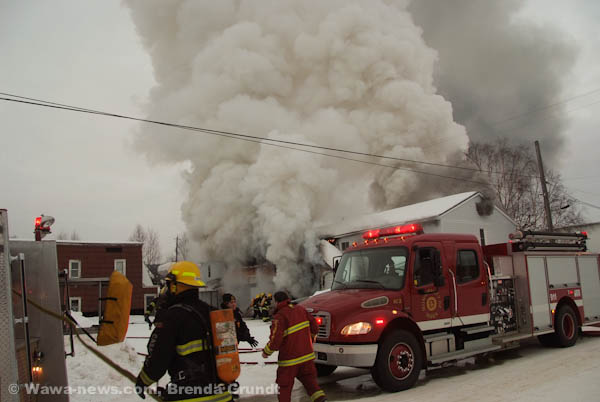 Feb 5, 2014 at 08:12
Y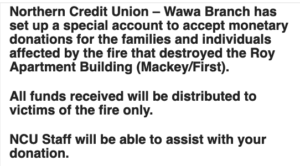 esterday, Tuesday, February 4th at 5:30 p.m. Wawa-news began taking photographs of the apartment building located on the corner of Mackey and First Avenue. At first, there was only a huge column of black and grey smoke, but on the other side – flames were visible and quickly building. It wasn't long before a large portion of the western side of the building was engulfed. Firefighters worked hard with Municipal staff to get water flowing from hydrants in the -12C. All firefighters were called to the blaze, with an estimation from the photographs of 5-6 hoses pouring water into the building. Wawa-news was told by the building's co-owner that everyone was out of the building. At that time she was unclear as to having insurance coverage on the building. It is believed that there were 6 apartments in the building, with all of them without any possessions – perhaps purses/wallets and the clothes they were wearing. On the Facebook site "Wawa and Area Sell and Trade" the call has already gone out to coordinate the collection of household items and clothes for the victims.
Members of the SE OPP manned blockades in order to prevent curious onlookers from getting to close to the fire. Huge water puddles grew, making walking treacherous as people tried to get a vantage point to see what was happening.
The firefighters fought in dropping temperatures, and rising wind through the evening. The light breeze gradually grew to a stronger breeze helping to blow the smoke plume directly over the town. The plume was visible from as far as the Wawa Motor Inn, accompanied by strong fumes. This plume wasn't pleasant, and firefighters were continually assaulted by billowing clouds of smoke.
Firefighters were still fighting at midnight, and were still there this morning at 9 am. Mackey Street is still blocked from Second Avenue to McKinley Avenue. Parts of First and Second Avenue are blocked as well. The roof has collapsed, and ice coats the walls. Windows are draped with icesicles, and eerily, you can hear a detector still sounding. There cannot be anything left inside the building after the heat and intensity of the blaze. There were two families and four individuals that lost everything in this fire. The Northern Credit Union has set up an account. Funds deposited to this account will be distributed to the people who were affected by this tragedy.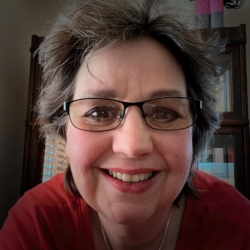 Latest posts by Brenda Stockton
(see all)