Nov 4, 2006 @ 14:56

Once again winter is here…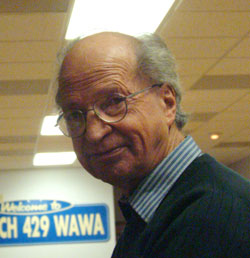 And one of Wawa's most enjoyed traditions is back. Bob Paterson is showing watercolours at the Legion Hall. Last night saw many of these beautiful watercolours marked with a "S" signifying that they had been snapped up by an admirer. Although don't despair, roughly half are still available for purchase during the show on Saturday.
Bob and his wife, Marion will be there all day if you wish to drop in, and there is coffee and juice to drink, as well as a few sweet treats to eat as you check out the art.
To the disappointment of residents last year, Bob didn't hold his annual fall show. Instead he had to prepare for a show at the Thunder Bay Art Gallery.   And to our benefit, since then, he's certainly made up! This show offers an incredible 27 or so full size framed watercolours, and on the side, a new venture, birds. Beautiful Blue Jays, chickadees and pine grosbeaks.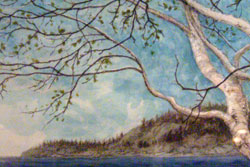 Previously Bob offered birds on his "cards", but now they are "larger than life" watercolours, each in their own frame. One can almost hear the chickadee's "chick-a-dee, dee, dee as they sit in the branches, or the blue jays chastising the squirrels as they try to get a peanut or two from the feeder that must be somewhere nearby. Bob's watercolours show an incredible range of colour this year, with an especially beautiful scene of Old Woman Bay.
This year's watercolour titles range from the romantic "Tanglewood", the intriguing "Winter Jewellery", to those that will bring back memories… "Nokomis Lookout", "Spring comes to Old Woman Bay", and "Tik Road Falls".   Although Bob has been a resident of Hawk Junction since 1984, he still finds that inspiration comes easy in this area.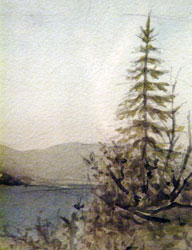 Many times you can see his truck parked in some wee out of the way spot, perhaps at Katherine's Cove, where one could wonder, "just what did you see?", and then be thrilled to see as a piece of art featuring that very spot.   The other tidbit that Bob offers to his fans, is not only beautiful glimpses into our area, but little bits of prose. A few sentences accompany each painting, allowing the viewer and purchaser a chance to peer not only through Bob's eyes, but into his thoughts.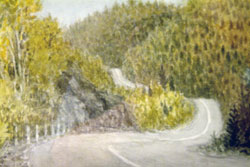 On the Road Again (detail at left): "Highway 101 is a pleasantly twisting and winding road, like life. In the fall it is even more pleasant as the road ribbons along the side of the lake and amongst the hills enhanced by the golds and sunlight and moments of brilliance. It seems not possible to get the exact desired effect, but it is always interesting to try as it is always interesting to travel along on a fine autumn day. Sometimes a view seems better from the center of the road, but that isn't a good place to sit down to work apparently."
One could have a good chuckle at the thought of coming around one of these corners, and seeing Bob standing there with easel, canvas and paints working away.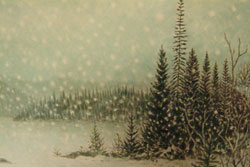 Snowing on Wawa Lake (detail at right): "Falling snow is often poetic, unless one is trying to see the road while driving somewhere in a hurry. I think most would agree that falling snow on a winters' day does look good as that is what winter is all about, for we need it for so many reasons. With watercolour paintings, white is not normally used and so to present white items such as snow, falling or otherwise, one must paint around the shapes, allowing the white of the paper to do the job."
It is certainly difficult to see how Bob can figure out where all the snowflakes will fall before he paints the trees, and mountains in the background in. Perhaps that is the mystery… "Which came first, the snowflakes or the trees?".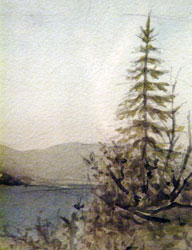 Bob has been a resident of Hawk Junction, painting at his home and studio with his wife Marion. Although Bob endured the lost of his home and studio during his early years, he has continued on becoming a major part of the Hawk Junction community. For a number of years he held art classes for the children of Hawk, and has published a book about the art classes as well as "abstract concept of drawing". Bob had experience in teaching earlier, teaching drawing and printmaking at Georgian College for a few years.
Bob has held not only his fall show in Wawa (about 18 of them), but has exhibited watercolours or pencil sketches at the Art Gallery of Algoma in Sault Ste. Marie, and most recently at the Thunder Bay Art Gallery.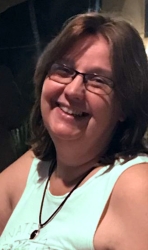 Latest posts by Brenda Stockton
(see all)