NDP Leader Jagmeet Singh has called on the Liberal government to help Canadians make ends meet as the price of necessities like food and gas continues to climb. Although gas and food prices were rising before the war in Ukraine, the Russian invasion has driven costs even higher. New Democrats believe that the federal government has a responsibility to help make life more affordable for Canadians by taxing the excess profits of oil companies and big box stores who continue to make billions of dollars while everyday people struggle to take care of themselves and their families.
"While you and your family are forced to pay more on your weekly grocery bill or to fill up at the pumps, the CEOs of huge grocery chains, big oil companies and other big box stores have made record profits during the pandemic," said Singh. "It's not okay that Canadians are struggling to put food on the table or drive their kids to school while the ultra-rich are getting richer. The Liberals and Conservatives have repeatedly refused to force huge corporations to pay their fair share. New Democrats will keep fighting to close tax loopholes for big corporations and put a wealth tax on the ultra-rich so we can invest in solutions that will make life more affordable for all Canadians."
While Canadians are fighting to keep up with these growing costs – big box stores and oil companies are making record profits. Last year, Walmart made $3.562 billion in profits while Canadian Tire made $1.261 billion in profits. Oil companies like Canadian Natural Resources and Suncor made respectively $2 billion and $1.5 billion in net income in the fourth quarter alone. Imperial Oil made enough money to increase its dividend by nine per cent in the fourth quarter. Under the Liberals, the ultra-rich are thriving while Canadian families feel abandoned.
"While big corporations make record profits, half of Canadian families are unable to keep up with the cost of living. People expect the government to take action to help them and their families. Instead, the Liberals are standing by and leaving Canadian families to figure it out on their own," said Singh. "New Democrats want to tax excessive profits and redistribute that money to Canadians. This will help people deal with the rising cost of living so they can take care of themselves and their families. By taking action, the government can get some of people's hard-earned money back into Canadians' pockets."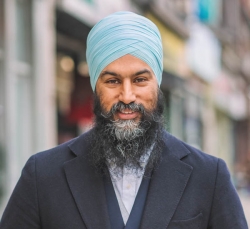 Latest posts by New Democratic Party
(see all)