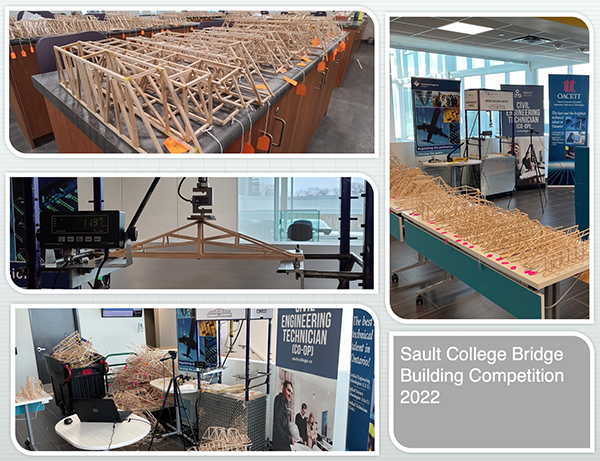 Sault College, in partnership with Professional Engineers Ontario (PEO), marked the return of the annual Bridge Building Competition on Friday, March 11, 2022. The competition was open for all students in grades 4-12, as well as younger and older entries through the open category.
Nearly 400 balsa wood bridges were entered this year where students competed against their fellow classmates for prizes and bragging rights. The event was livestreamed to all classrooms.
"We shattered the number of bridges we typically saw in the years before the COVID-19 pandemic. We had almost double the entries from the last time the competition ran in 2019," says Marc Pilon, P.Eng – Professor/Coordinator of the Civil Engineering Program at Sault College as well as Chair of the PEO Algoma Chapter. "We are seeing many new schools join, including schools from: Wawa, Elliot Lake, Tessalon, Blind River, and Espanola, which is awesome!"
The bridge building competition is typically held in the Sault College Health and Wellness Centre; however, with current protocols this event was held for the first time over livestream. "We didn't want this to be just another livestreamed event, and thanks to our generous sponsors, we were able to draw for class pizza parties and offer some really exciting prizes," added Pilon.
"What is cool about this event is the community involvement. Local Architecture/Construction/Engineering firms all pitched in to help us make this special for students. Evolugen, in particular, has helped subsidize the cost of bridge building kits for the schools immensely. Thanks to their support, a balsa wood kits that costs us around $8 can be made available to students and schools for $3, making this an affordable activity," says Pilon.
Students who place top 10 in each category are awarded a cash prize ranging from $200 for first place to $20 for tenth. Bridges are scored based on a load to weight ratio to encourage students to use their materials efficiently. The top three finishers of each category for the 2022 Bridge Building Competition are as follows:
Grade 4/5:
1st – Lilian Nicholson (Anna McCrea) Score: 145.455
2nd – Minaz Umrigar (Holy Cross) Score: 71.488
3rd – Hanzalah Jadoon (Anna McCrea) Score: 71.144
Grade 6-8:
1st – Tiago & Jonathan (FH Clergue) Score: 175.00
2nd – Jack, Owen, & Hunter (Central Algoma Intermediate) Score: 150.00
3rd – Zoe & Paisley (FH Clergue) Score: 120.896
Grade 9-12:
1st – Rhianna Goymer (Elliot Lake) Score: 106.479
2nd – Liam DiMeo (Korah) Score: 94.392
3rd – Tyrin Dubois-Gorman (Korah) Score: 82.459
Further prizes were also awarded:
Construction Award Sponsored by the Sault Ste. Marie Construction Association: Andrew Vair – Superior Heights
Engineering Award Sponsored by TULLOCH Engineering: Logan & Ethan – Korah Collegiate
Architecture Award Sponsored by IDEA: Amy MacMichael – Ben R. McMullin
To meet the unprecedented demand in the construction and engineering industry, Sault College offers learning opportunities in Civil Engineering Technology, Construction Techniques, as well as Construction Project Management to support students interests in this exciting career!  For more information, visit www.saultcollege.ca.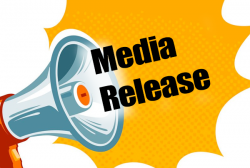 Latest posts by This Media Release
(see all)