Weather – A mix of sun and cloud. Fog patches dissipating this morning. Wind up to 15 km/h. High plus 3. Wind chill minus 10 this morning. UV index 5 or moderate.
Tonight – Partly cloudy. Becoming cloudy overnight then periods of snow. Wind becoming south 20 km/h gusting to 40 this evening. Low zero.
Statistics –

News Tidbits – The National Post is reporting that the Ontario Energy Board will reduce electricity rates for the next forty-five days. That is great news for everyone at home.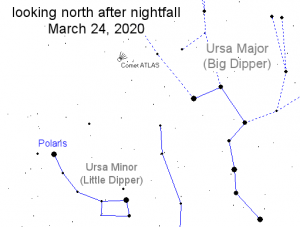 Over the next weeks, there will be a new visitor visible in the sky. Spaceweather.com is reporting that – Comet ATLAS is certainly the biggest green thing in the Solar System. Its verdant hue comes from diatomic carbon, C2, a molecule commonly found in comets.  Gaseous C2 emits a beautiful green glow in the near-vacuum of space. Comet ATLAS is shining like an 8th magnitude star–invisible to the unaided eye but an easy target for backyard telescopes. The comet is brightening rapidly as it comes closer to Earth and the sun. By late May it could rival Venus in the evening twilight sky. Stay tuned!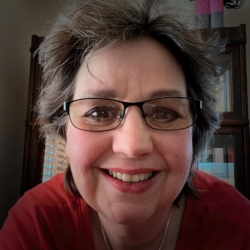 Latest posts by Brenda Stockton
(see all)