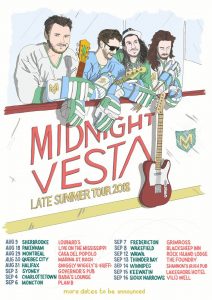 Midnight Vesta is a Canadiana band based out of Toronto. Since the release of their debut EP, 'The Sleight of Hand', which garnered national airplay on college radio, the band have been working the 401 and expanding an audience with their live performances. Their 2017 release, 'Seconds', sees them progress from a banjo-driven folk band to a guitar-laden quartet smothered in harmony.
Dinner: 6 pm, $25/person. 705-856-2939 to reserve your seat.
Concert: 7:30 pm $15 donation + item for the Wawa Food Bank.
Dinner Menu
Baguette & Caesar Salad
Seasoned Porketta roasted with fresh seasonal Veggie Assortment 
Pumpkin Pie with Whipped Cream, Jack Daniels Pecan Pie, and Apple Caramel Crisp
Gluten-free and Vegetarian options are available on request at the time of booking
Directions to Naturally Superior Adventures/Rock Island: Turn west off Highway #17 (towards Lake Superior), at Camp High Falls (4 km south of Wawa) turning right when you arrive at the paved road of the Upper Michipicoten River Village. Turn right following the paved, then dirt road over the Silver Falls Bridge and the historic cemetery. Before going up the steep hill to the Michipicoten Bay Lookout, turn left immediately (after the Great Lakes Power hydro-station). Follow this road to their gate, where there is a large parking area and bus turn-around next to Government Beach. Just follow the signs!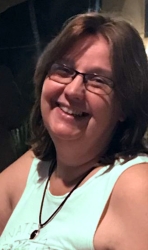 Latest posts by Brenda Stockton
(see all)