Apr 15, 2018 @ 18:30
On Friday, Councillor Sandra Weitzel organized a march for the community in support of those who lost their lives in the Humboldt tragedy. The march was scheduled to begin at 5 p.m. one week from the date of the collision. The march was escorted by Wawa's emergency vehicles and personnel joined in. At the Michipicoten Memorial Community Centre, Mayor Rody said a few words and then Brian Lachine spoke a few words in prayer. Afterwards, everyone was invited inside to sign the Book of Condolences which will be sent to the Town of Humboldt.
TEAM PLAYERS KILLED
Logan Boulet, 21, of Lethbridge, Alta.
Adam Herold, 16, of of Montmartre, Sask.
Logan Hunter, 18, of St. Albert, Alta.
Jaxon Joseph, 20, of Edmonton
Jacob Leicht, 19, of Humboldt, Sask.
Conner Lukan, 21, of Slave Lake, Alta.
Logan Schatz, 20, of Allan, Sask.
Evan Thomas, 18, of Saskatoon
Parker Tobin, 18, of Stony Plain, Alta.
Stephen Wack, 21, of St. Albert, Alta.
TEAM PERSONNEL KILLED
Tyler Bieber, announcer, 29, of Humboldt, Sask.
Dayna Brons, team trainer, 24, of Lake Lenore, Sask.
Mark Cross, assistant coach, 27, of Strasbourg, Sask.
Darcy Haugan, head coach, 42, of Humboldt, Sask.
Brody Hinz, stats expert, 18, of Humboldt, Sask.
Glen Doerksen, bus driver, 59, of Carrot River, Sask.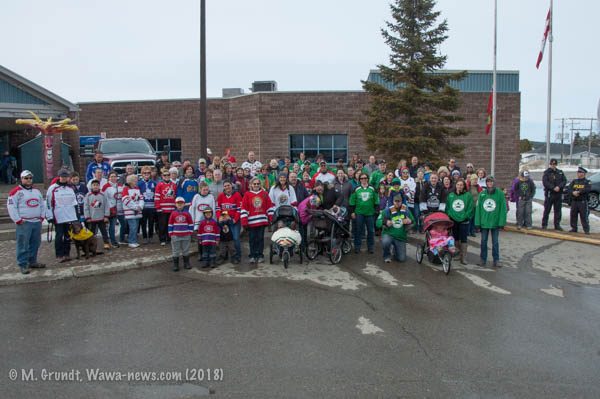 Apr 15, 2018 @ 18:00
April 12th was Jersey Day. A number of local businesses posted on facebook photographs of their staff wearing jerseys in showing their support. Students in the schools wore their jerseys in support as well. The Northern Credit Union also helped by collecting donations which was a great idea as GoFundMe will only take credit cards, no paypal.
April 12, 2018 @15:51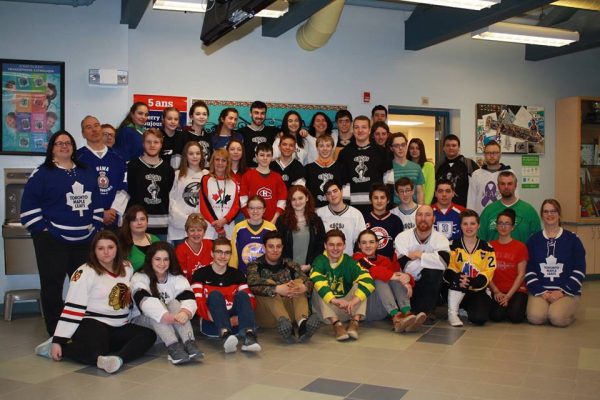 In solidarity with the Humbolt Broncos – Staff and students at École Saint-Joseph (Wawa) rallied behind the Humbolt Broncos on Thursday, April 12, wearing jerseys or green and yellow shirts to school.
Apr 12, 2018 @ 13:17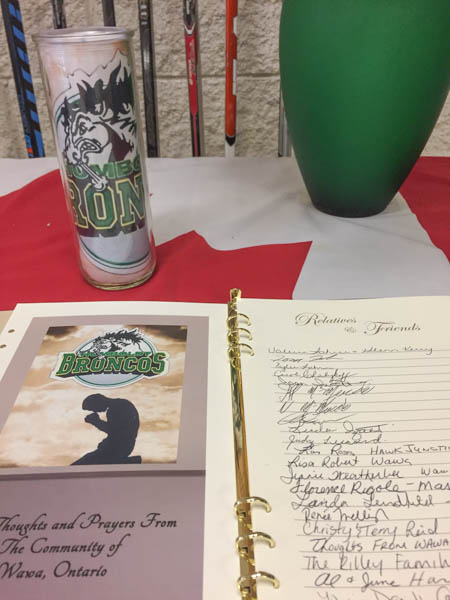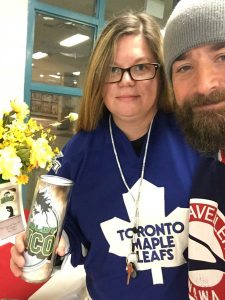 The Humboldt Book of Condolences is now at the Michipicoten Memorial Community Centre.
It lies on the table underneath the Veteran's Memorial Plaque. Everyone is invited to sign the book, and it will be sent to the town of Humboldt on Monday.
UPDATE – Apr 12, 2018 @ 09:09
Today is Jersey Day!
Many are wearing their jerseys to school or work today in honour of the Humboldt Broncos.
Northern Credit Union staff will be wearing jerseys today in honour of the Humboldt Broncos. Branch Manager Liz Talian-Clark explained, "We will be collecting donations from all staff and if anyone else would like to donate, please stop in and we will be happy to send your donation in on behalf of our members and non- members as well. All of our Northern Credit Union Branches are participating in this!"
Yesterday Canadian Tire put a hockey stick outside of their building. Everyone has been invited to #putyoursticksout
UPDATE – Apr 12, 2018 @ 08:30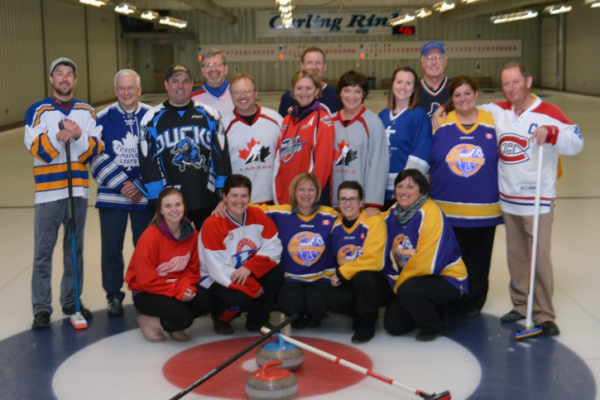 At the Ladies and Men's Playoff Championship Games last night the four teams dressed in hockey jerseys in memory of the tragic accident involving the Humboldt Broncos. Read the full story here.
Updated – Apr 11, 2018 @ 07:53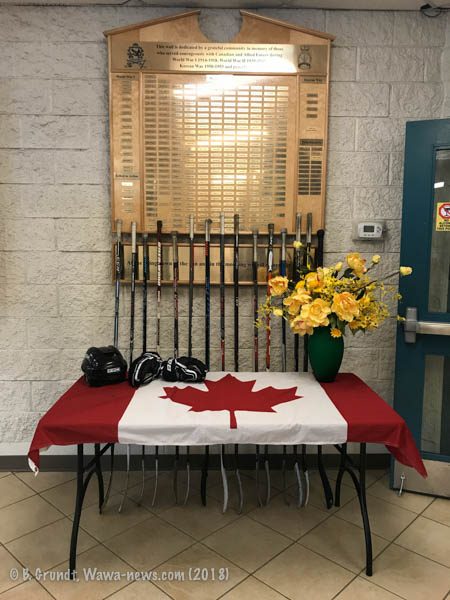 The Book of Condolences will be in the lobby of the Michipicoten Memorial Community Centre until the morning of Monday, April 16th, 2018. It will then be sent to the town of Humboldt.
Apr 10, 2018 @ 16:05
The news spread like wildfire across the media, and details were scarce. It took time in which families discovered that their lives had changed irrevocably in the collision between a bus carrying players, coaches, media; and a transport. The impact was sudden but the impact will continue to affect their lives. A community, Humboldt has been devastated.
In Wawa, as in many small towns where hockey and sports teams travel great distances in good weather and poor to challenge other teams – parents and players hung on every headline. The family ties of hockey players runs deep. On Sunday, April 8th's Family Skate asked everyone to wear their jerseys to the MMCC in a small gesture of support.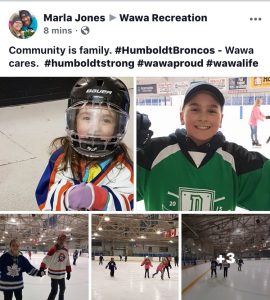 Later Sunday evening, the Wawa Minor Hockey Association asked via their facebook page, "Thursday, April 12 wear your favorite hockey jersey to school or work to show your support." the support began to grow.
Monday morning, Councillor Sandra Weitzel shared with Wawa-news that there would be a Community Walk on Friday, April 13th. "There are some of us in Wawa who want to honour the Humboldt Broncos and the town of Humboldt by having a Community Walk. This is simply a community walk to show solidarity, compassion, and community-wide grieving for an unspeakable tragedy."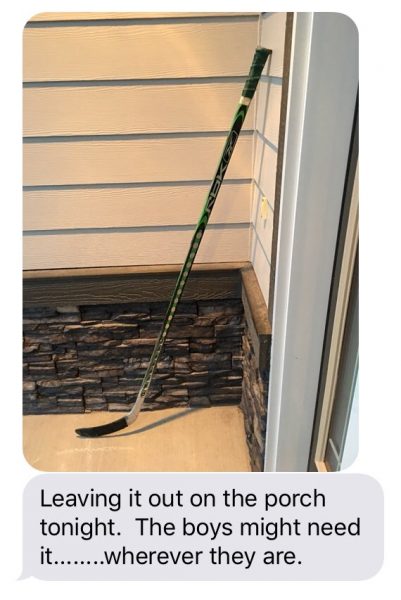 Everyone is encouraged to wear their jersey, green or gold, or come as you are. Everyone is asked to meet at the Town Hall, 40 Broadway Avenue at 5 p.m. to walk to the Michipicoten Memorial Community Centre (MMCC). Superior East OPP will be escorting the Community Walk. Once everyone arrives at the MMCC, there will be some speeches inside, and well as a 'Book of Condolences' for people to sign. The book will be at the Community Centre until Monday morning when it will be sent to the town of Humboldt.
In the meantime, many people are putting out a hockey stick beside the front door #PutYourStickOut Brian Munz, Winnipeg Jets broadcaster began the spread of this tribute when he tweeted a photograph from a friend who lives in their hometown of Humboldt. "Got this text from a friend who I went to high school with in Humboldt. Inviting you to do the same as we remember and send our thoughts to the #HumboldtBroncos. #PrayersForHumboldt #Broncostrong #Humboldtstrong #theSJHL #TSNHockey"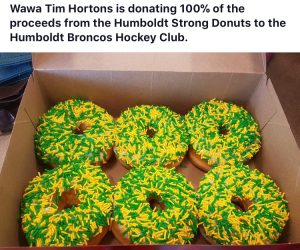 Wawaites can also purchase green and gold sprinkled donuts at Wawa's Tim Hortons. 100% of the proceeds from the sales of these Humboldt Strong donuts will go to the Humboldt Broncos Hockey Club.
If anyone wishes, donations are encouraged via the official gofundme pages.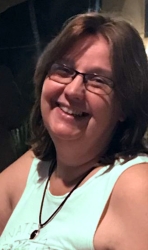 Latest posts by Brenda Stockton
(see all)