Feb 19, 2018 @ 08:12
This week MPPs will return to Queen's Park for the last leg of this session before the anticipated election that will be called for early June. I for one am ready to get back into the Legislature and Queen's Park office; eager to tackle the multitude of issues that have been brought to my attention in recent weeks. Since the New Year I have opportunities to visit communities for special events, meetings and constituency clinics from end to end.
Over the winter recess I also met with municipal leaders from Algoma-Manitoulin at the Rural Ontario Municipal Association Conference held in Toronto. Approximately 1,000 municipal officials from across the province and leading thinkers came together to discuss topics of local, provincial, national, and international importance. The goal was to invigorate public debate about how Ontario's municipalities will respond to ever changing challenges and opportunities.  Unlike many other provincial ridings that are comprised of only a handful of townships and municipalities, Algoma-Manitoulin has nearly 40 such elected bodies in addition to numerous First Nation's bands.  I am proud of the strong relationship shared with all local leaders in this riding.
As well I spent several days and nights in Taiwan on an economic trade and development mission in an effort to establish and strengthen Ontario's presence and role as an international player. While there, everywhere we went our delegation enjoyed warm greetings and productive discussions. To say that our days and nights were jam packed with such opportunities is by no means an overstatement. Such initiatives are essential for our province to maintain and improve our prominence as a world class economic leader.
As they say, however, home is where the heart is. And in my heart I am happy to be back in the Legislature where my colleagues and I will continue our efforts to make life better for the people of Ontario. One of our main concerns will be to call on the Premier to put forth effective measures to finally address Ontario's health care crisis in our hospitals. For months now my Leader, Andrea Horwath, has been sharing multiple reports gathered through Freedom of Information that tell of outrageous and even dangerous overcrowding in our hospitals.
Recently our health critic MPP France Gélinas said that the government's weak commitment to repeat this year's flu season program for hospitals clearly demonstrates that Kathleen Wynne doesn't get what hospitals and patients are dealing with day-to-day during flu season or throughout the rest of the year.
The surge funding provided to hospitals this year did not alleviate the crisis, and repeating what happened this year will mean that overcrowding will continue and families will continue to suffer. And what's worse is that now our hospitals are overcrowded year-round.
The overcrowding and hallway medicine problem in Ontario has been getting progressively worse over the last decade. Then it evolved into a crisis just before flu season hit. If Ontarians continue to put their hopes in Liberal and Conservative programs of cuts and underfunding; praying that things will somehow improve, the situation will continue to spiral downward. To really fix this we need a systemic change in the way we fund hospitals.
Andrea Horwath and our party have been releasing internal documents obtained through Freedom of Information requests since May 2016 showing the extent of the overcrowding. The last Conservative government closed 28 hospitals and fired 6,000 nurses. Wynne's Liberals have continued down the same path – shortchanging hospitals in last year's budget to the tune of $300 million.
France Gélinas said, "We have to stop choosing between bad and worse when it comes to healthcare. People should be able to depend on our hospitals. We have a world-class health care system in Ontario, but decades of cuts have meant that it's not functioning as it should."
An NDP government will fund hospitals at a minimum, to the rate of inflation and population growth, and take a look at the unique needs of each community – things like aging populations. We are committed to implementing a "Pharmacare" program so that everyone can afford the medicine prescribed by their doctor – which is an upstream solution that will keep Ontarians healthier, and cut down on ER visits. We are also committed to a moratorium on front-line health care layoffs.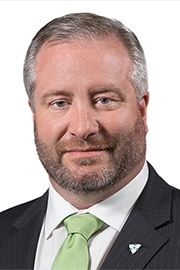 Latest posts by Mike Mantha
(see all)