May 26, 2017 @ 12:21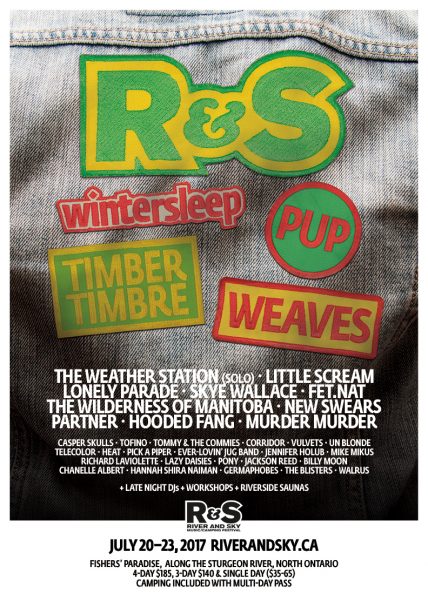 The full line-up — ranging from pop to punk-rock and from folk to psych– has been released for the River & Sky Music/Camping Festival, taking place this July 20th to 23rd, on the Sturgeon River, between Sudbury and North Bay.
Heading into its ninth year, R&S is set on the grounds of Fishers' Paradise in the community of Field, West Nipissing, and features emerging Canadian indie music for its audience made up of friends and young families who enjoy camping in field and forest, as well as swimming in the river and sweating it up in one of its two saunas.
Last month, the festival announced its headliners — East-Coast Juno winners Wintersleep for the Thursday night, twice Polaris Prize nominated Timber Timbre on the Friday, punk-rockers PUP for the Saturday night, and closing out the festival on the Sunday, rock quartet Weaves.
"Since then we've slowly been releasing the rest our line-up through social media," said Festival Director Peter Zwarich. "Our music committee is made up of members living throughout the province – myself, Kallie Berens, Shawn Kosmerly, and Isabella Scola-Lawryshyn in Sudbury, Brett Greene and Holly Cunningham in North Bay, Brendan Lehman in Toronto, and Rachel Weldon in Ottawa. Together we've collaborated to present four days of music set to nature. Our four stages —Main, Beach/Campfire, Coffeehouse, and new late night Dance Party, set deep in the forest—run one after each other, so no agonizing music choices need be made."
Bands with regional ties include post-punkers Casper Skulls and Pony, (both from Sudbury, now based in TO), trendy-funsters Tofino (Sudbury),  the outlaw-bluegrass of Murder Murder (Sudbury), the 1970s punk of Tommy & the Commies (Sudbury), grunge-inspired Mike Mikus (Sault Ste. Marie), the cutie-pop of the Lazy Daisies (Sudbury), the old time Appalachian strummings of Hannah Shira Naiman (North Bay), synth trio Telecolor (Sudbury), as well as singer-songwriters Jackson Reed (Goulais River),  Chanelle Albert (Verner, ON),  and Jennifer Holub (Sudbury).
Traveling from across the country and beyond to R&S are Partner (Sackville, NB), New Swears (Ottawa), Heat (Montreal), Lonely Parade (Peterborough, ON), Germaphobes (Toronto), Billy Moon (Hamilton), Un Blonde (Montreal), Little Scream (Montreal), Hooded Fang (Toronto), The Blisters (Chicago, USA),  Pick A Piper (Toronto), Ever-Lovin' Jug Band (Waterloo, ON), and Richard Laviolette (Guelph, ON),
Bringing all the W's … The Wilderness of Manitoba (Toronto), Skye Wallace (Vancouver, BC), Walrus (Halifax, NS) and Weather Station (Toronto). And don't forget Weaves.
Bands who'll rock the Francophonie at the festival … psychedelic-surf of the Vulvets (Montreal, QC), trippier than thou Corridor (Montreal, QC), and the art rock of Fet. Nat (Hull, QC).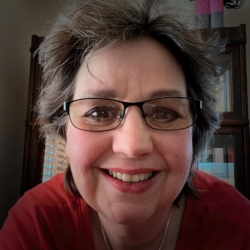 Latest posts by Brenda Stockton
(see all)