Mar 27, 2017 @ 10:32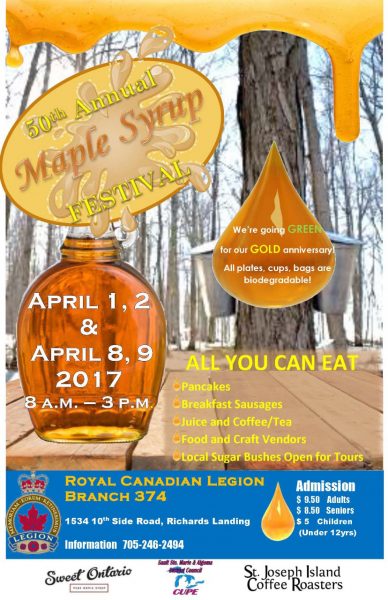 The Royal Canadian Legion (RCL) Branch 374, Richards Landing, on the occasion of the Golden Anniversary of their Maple Syrup Festival, is going GREEN! You read that correctly – no more styrofoam! We will be using bio-degradable plates and cups to serve up our usual scrumptious St. Joseph Island produced maple syrup; all you can eat pancakes and sausages; coffee, tea and juice. Even our trash will be disposed of in bio-degradable paper bags.
In conjunction with this theme, our coffee supplier is St. Joseph Island Coffee Roasters. All their "coffees are 100% Fairtrade Certified, all organically grown".
Fifty years ago, when our Maple Syrup Festival began, RCL Br. 374 was located in the core of the Village of Richards Landing's business district, in the same building that now houses The Green Oak Gallery & Gift Shop. At that time, it was suggested that a Maple Syrup and Pancake fundraiser be held. The event was so popular that the membership turned it into an annual event.
The Maple Syrup Festival has grown into RCL Br. 374's largest, yearly fundraiser! None of this would have been possible without the army of volunteers; both Legion members, and from the surrounding communities. We acknowledge and thank all Volunteers who have contributed to the success of Maple Syrup Festival.
One of those Volunteers is Comrade Harold Kent, a Veteran and a 50 year member of RCL Br. 374, who reluctantly admits that his 90 plus years are "starting to slow me down". Again this year, Comrade Harold plans to be there early each morning to 'get the grills up to temperature'; just as he's done from the beginning.
As they've done for the past two years, Sault Ste. Marie & Algoma District CUPE is supporting our Maple Syrup Festival. They will choose one of the four Festival days. On that day they will pay for the meal of a specified number of attendees. This is a major financial commitment. We acknowledge and thank CUPE for their support.
Maple Syrup Festival is not just about savoring the syrup, pancakes and sausages. Display areas have been setup around the James Harten Memorial Hall for the thirty or so Vendors who support us. This includes six or seven of our Island and Area Maple Syrup Producers who will have their products for sale.
The RCL Br. 374 Membership and its' supporters invite you to come out, drive down, cross over, The Bernt Gilbertson St. Joseph Island Bridge to beautiful St. Joseph Island sometime during our Maple Syrup Festival. It is held on the weekends of April 1 & 2; and April 8 & 9 – from 8 am to 3 pm each of those days, in the James Harten Memorial Hall, 1534 10th Side Rd. (Hwy 548), Richards Landing. While you are there, we encourage you to enjoy the meal; visit the vendors, and take the opportunity to speak to some of our friendly volunteers.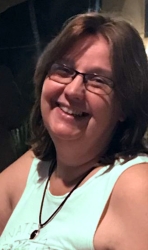 Latest posts by Brenda Stockton
(see all)