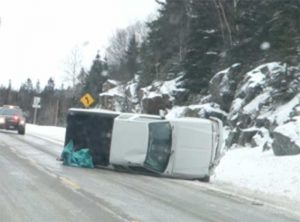 Just at lunchtime, OPP and Algoma EMS were called to the scene of a single vehicle rollover. The white pickup had rolled, losing its cap and coming to rest in the northbound lane, just north of Fenton/Treeby lakes. The highways were snow-packed with icy sections at the time of the incident. The highway was closed for a brief time, then OPP opened the highway to one lane, conducting traffic through the collision scene until the vehicle was towed away.
The driver, Wally was okay, but he was travelling with two dogs, Cane (Hurricane) and Cyc (Cyclone). Hurricane is okay and with Wally, but Cyc is missing. Cyc is male, border collie/lab mix, with a black body, brown legs and head. Normally Cye is very friendly and loving, but today has been a difficult day and he is probably terrified.
If you are travelling in the area and Cyc comes to you, please call Wally. Wally and Cane are anxious to be reunited with Cye, 613-920-0244.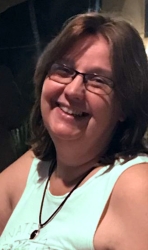 Latest posts by Brenda Stockton
(see all)