Mar 23, 2017 @ 07:23
There are still miracles to be found. Cyclone's story is one of them.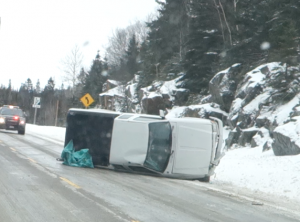 On March 1st, Wally was traveling with his two dogs Hurricane (Cane) and Cyclone (Cyc). At Fenton/Treeby the wind grabbed hold of the cap on his truck and spun the truck on the icy roads, the truck hit the rock cut and rolled onto its side. Wally was able to grab Cane, but Cyc bolted.
Wawa-news did go to the collision site and took some photographs and posted a brief article, but wasn't aware at that time that pets were involved. It wasn't until about an hour later that it was known that a dog was missing. Wawa-news contacted Wawa and Area Victim Services, asking them to forward contact information to Wally – and a short time later, the word began to spread, "Cyclone is Missing".
With the aid of Twitter and Facebook, that article went everywhere – 9,078 times the article was read. But to no avail. He had disappeared. Many Wawaites took up the search and drive to Fenton/Treeby, calling for Cyclone. No luck. Days passed, storms and bitter weather, and Wally went home with Cane, sad that Cyclone wasn't with them.
This morning, I was tagged in a post on Wawa Area Sell and Trade – blurry photos of a dog. Certainly looked like Cyclone… 2 hours of driving, no luck, Paula and another lady was out looking, Will Barner kept an eye out; but there was nothing. Finally, my cell rang – Mandy Forbes had him, and had brought him into Jones Power Sports. Can you believe it? – after 22 days on the run, Wawa's former dog-catcher spots Cyclone, pulls over, and he trusts her and gets in her vehicle! Incredible!
I had joined forces with Pam Sabourin earlier, her driving and I spotting. We walked into Jones Power Sports, and in the office, there he was, lying down at Darlene's feet.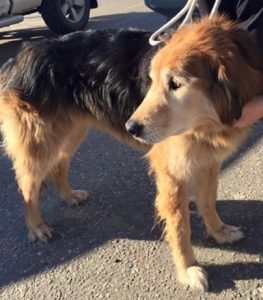 This dog was quite calm, let me pet him as I looked for the 'green collar'. Seeing it, I looked for "Wally Cyclone's Daddy" in my contacts, and called. 22 long days later, Wally answered the phone. I could hear the tears in his voice as he realized that I wasn't joking and that yes, indeed, I was on my knees petting his lost dog. Cyclone needed to be seen by a vet, and as I had promised Wally on the 1st – Cyclone would get medical care.
With Pam at the wheel, and Cyclone curled up in the back, we headed to Northland Animal Hospital. My pets have seen both vets at Northland in the Soo and by Dr. Bowyer in Wawa. This not being a local clinic day, Cyclone was headed to the Soo. At Northland, Cyclone was weighed, blood pressure checked; a complete physical – and although thin was given a clean bill of health. The recommendation was to give food several times a day in small portions to let his stomach adjust, mentioning meat and rice.
Wally was called and given the fabulous news that Cyclone was ok. Wally was about an hour out of Sudbury at that time (he lives in Missisauga). The decision was made to meet Wally when he arrived in the Soo. In the meantime, we went to Pino's for some food for Cyclone. He enjoyed a couple pieces of mild sausage and a drink of water, and then later some rice.
Somewhere in our shopping, the decision was made to have Cyclone groomed, made all handsome. That wasn't as easy as it sounds. Everyone was busy, despite being told the story of  Cyc's miraculous survival and our hope to surprise Wally with a beautiful dog, were not able to take him in. We decided to grab a comb and brush and help to tidy him up.
Fortunately, a friend was staying at the Delta, and as they are pet-friendly, allowed us to bring Cyclone in for a visit. While waiting for Wally, we tried to brush and comb Cyclone. He wasn't too particularly pleased with that, but let us try. My phone rang again, and it was a shop that I had left my name, story and number with. He said – bring him in!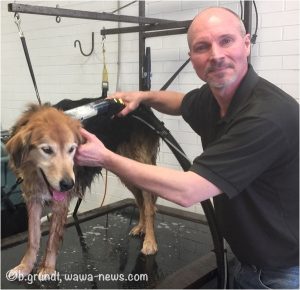 Lionel Beaulieu of K-9 Bath Centre took Cyclone in. Cleaned with a machine that uses hydrogen peroxide and water for a deep clean, blow dried, combed, trimmed, and pedicure – Cyclone looked like a million bucks! His thinness was hidden by his fabulous coat that must have kept him warm over the past three weeks.
We returned to the Delta to wait. By now, I think Cyclone knew something was up – he was restless, only napping for a few minutes at a time. When the phone rang, it was Wally. We said, "Meet us in the lobby of the Delta". He was on his way.
Downstairs, the staff at the front desk were amazed at how beautiful he was and were in disbelief that he had survived so long and in such harsh weather. It seemed forever, but finally Wally AND Cane walked in the door.
There wasn't a dry eye in the house. After they cuddled, (watch the video and see Cyclone reach up and steal his daddy's hat); we had a chance to meet finally, hugs and thanks were shared. Time and time again, Wally expressed his gratitude to those who had searched, not giving up. He was overwhelmed with the generosity and concern shown for the well-being of Cyclone.
This is the great story of a 10-year-old dog that managed somehow to survive 22 days along the highway, making his way to town and being found. Simply amazing!
A huge thank you to the loyal readers of Wawa-news.com who helped by spreading the word, Kristen who let me use Wawa Area Sell and Trade to publicize Cyclone's story; everyone who spent their time going down and searching, hot dogs in hand, keeping hope alive; Pam who was my chauffeur in this adventure of a lifetime, the generous gift of grooming by a benefactor, Wawa and Area Victim Services, OPP, MTO… everyone who had a hand in making Wally comfortable in Wawa, and the search to reunite Wally and Cane (who is 14). They are happy beyond belief at Wawa's care, concern and help. THANK YOU!
UPDATE: 8:20 a.m. Wally gave a quick call to Wawa-news this morning:
"I'm amazed at how many people were involved. I'm almost speechless. I don't know what to say anymore. You guys went overboard." Wally is looking at moving to this area, and has insisted that when he is here and an animal goes missing – call him, he is part of the search party.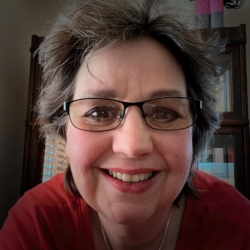 Latest posts by Brenda Stockton
(see all)