Jun 12, 2008 @ 14:40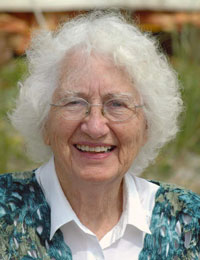 Janet passed away at the Lady Dunn Health Centre, age 89, Friday, June 13, 2008, surrounded by her family.
Adored wife of 69 years to Ralph Mills, mother of Dianna Brown (Bill), Jo-Anne Wilush (Kevin), Gwenyth Mills (Simon Brissenden), and Blair Mills (Cynthia) She will be deeply missed by her grandchildren Catherine and Jennifer Brown (Ottawa), Ted, Ian and Emily Wilush (Burlington), Laura Brissenden (Calgary), Bryan and Neil Mills (Wawa). Sister of Elgin Robinson (Sault Ste. Marie). Predeceased by bothers and sisters Ina, Allen, Clifford, Ruby, Blanche, John, Floris, Stanley, Bruce, Manfred, and Ted.
Janet will also be missed by her many sisters and brothers in law, for whom she always had time, tea, and helpful advice.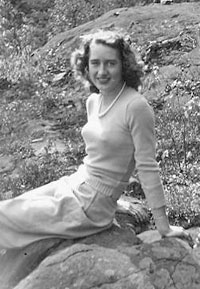 Born January 28, 1919 on Cockburn Island, Janet moved from Stavert (Hearst) to Michipicoten upon her marriage to Ralph in 1939. Janet and Ralph bought their first and only home on Wawa Street. later the same year, and she lived there until only a few days before her death. She was a member of the Legion Ladies Auxiliary for 60 years, and contributed to the community in countless other ways. During WWII Janet worked at Algoma Ore Sinter plant and in a munitions factory in Port Credit. She also spent some time during the war living alone on the shore of Wawa Lake, inspiring many with her strength and independence. An avid outdoorswoman, she was happiest at their camp on Lake Superior, and over the years had many adventures on the lake. She became an accomplished painter in addition to knitting, sewing, and other crafts. She loved to bake bread and goodies for her children and grandchildren and there was always room for one more around the family dinner table.
Her generosity, good nature and sense of fun will be sadly missed by many.
The Mills family would like to extend their heartfelt gratitude to the wonderful staff at Lady Dunn Health Centre for the caring and respect that was lavished on Janet and her family during the last few days of her life.
Visitation at Gilmartin Funeral Home on Monday, June 16, 7 p.m. to 9 p.m. Funeral service Tuesday, June 17, 1 :OO p.m. at the United Church of Canada, Wawa. Interment at Woodland Cemetery. Luncheon and Irish wake to follow at the Royal Canadian Legion, Wawa.
In lieu of flowers, donations may be made to the Lady Dunn General Hospital or Royal Canadian Legion.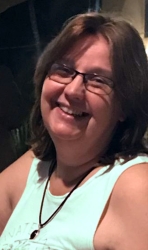 Latest posts by Brenda Stockton
(see all)