Feb 25, 2005 at 14:37
Lori Johnson, opened the ceremonies explaining that the audience was standing in the middle of the Snow Fantasy Court. There were statues of a "Snow Cake", Sponge Bob icefishing and the face of Shrek.
Lori th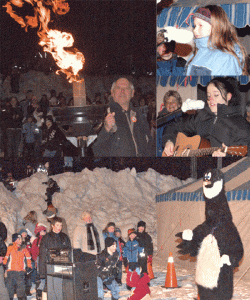 anked the volunteers, "this is a celebration of the volunteer spirit that is alive and well in our community, so I hope everyone gets out and enjoys everything that is going on this weekend". Haley Filion sang O Canada, and Katie Gauthier braved the bitter cold to play her guitar and sing a song she composed about Wawa.
Finally it was time for Rod Morrison, mayor of Wawa, to officially open the Carnival by lighting the torch. In a very brief speech, "Welcome to everyone, 2005 Carnival is here, we are about to offically kick it off. I'm not going to talk very long, because it is very cold. The only thing that I suggest for everybody is to participate and have fun. This is the weekend where you celebrate winter in Northern Ontario. Let's do it in the right way with a great deal of spirit. I wish everyone a great time."
With that he walked over to the torch with Lori Johnson and lit the torch. Just as that happened, the fireworks lit up in the now dark sky. After the fireworks, a Family Dance (Ontario Early Years Centre), and a Mixed Curling Social was beginning in the Michipicoten Memorial Community Centre.
Tomorrow's Schedule of events features:
Rotary Pancake Breakfast (Community Centre – CC), Family Drop in at the Ontario Early Years Centre, Children's Village (CC), Chamber of Secrets (CC), Dog Weight Pull (CC), Legion Ladies Luncheon (Legion Hall), Family Skating Party (CC), Northern Lights Ford Strongman Truck Pull (CC), Chris Simon Shoot Out (CC), Family Bingo (CC), Draw to the Button (CC), Heritage Committee Show & Tell (Library), Snowshoe Baseball (CC), Family Campfire and Sing-a-long (CC), Kid and Mutt Race (CC), Legion Wing Ding (Legion Hall), Family Sponge Puck Hockey Game (CC), Karaoke Sing-off (CC).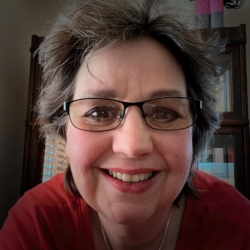 Latest posts by Brenda Stockton
(see all)