Premier Doug Ford issued the following statement to commemorate the death of the Honourable James K. Bartleman, former Lieutenant Governor of Ontario:
"I am deeply saddened to hear of the passing of Ontario's 27th Lieutenant Governor, the Honourable James K. Bartleman.
Mr. Bartleman served the people of Ontario with great distinction as Lieutenant Governor from 2002 to 2007. A proud member of the Chippewas of the Rama First Nation, he made history as Ontario's first Indigenous Lieutenant Governor.
Among his many contributions at Queen's Park, he helped to destigmatize mental illness, promote anti-racism initiatives and celebrate Indigenous communities, especially Indigenous youth. He was a strong advocate for literacy and began the first Lieutenant Governor's Book Drive, which collected 1.2 million books for First Nations schools across Ontario. An accomplished author himself, he wrote nine books. To this day, Ontario continues to recognize his legacy with the annual James Bartleman Indigenous Youth Creative Writing Award.
Mr. Bartleman had a long and distinguished career in Canada's foreign service, serving on six continents. Over his 35-year career in diplomacy, Mr. Bartleman represented Canada on the world stage and served as ambassador or high commissioner to many countries including Israel, Cuba, Australia and South Africa.
His tremendous contributions to the province and country will long be remembered.
I offer my sincere condolences to his wife, Marie-Jeanne, and his children Anne-Pascale, Laurent, and Alain."
Flags across the province are at half-mast and will remain so until after Mr. Bartleman's funeral. At the request of Mr. Bartleman's family, the funeral will be private.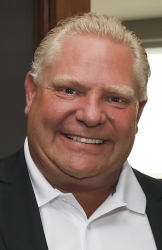 Latest posts by Doug Ford
(see all)