Today, Premier Doug Ford issued the following statement to mark the Family Day holiday:
"As Ontarians gather with loved ones, I want to first take a moment to thank those who will be working today to keep the people of Ontario safe and looked after, including all the frontline workers in our retail and hospitality sectors.
Our government will always be here for the families of Ontario. We're creating the economic conditions to grow and protect jobs, supporting stronger families and the communities they live in.
We understand that affordability and the rising cost of living are major concerns for households both large and small, and I want to assure that we are working around the clock to find more ways to keep costs down. We're making child care more affordable and accessible, saving families between $6,000 to $10,000 per child and investing in new spaces that will benefit parents for years to come.
We've eliminated fees for license plate stickers, cut the gas tax and are taking bold action to build 1.5 million new homes across Ontario over the next ten years to make home ownership attainable for more families.
We're also making historic investments in roads, highways and transit so that you can spend more time at home with your loved ones and less time stuck in traffic.
These are just some of the actions that our government is taking to ensure Ontario remains the best place on earth to live, work and raise a family.
From my family to yours, I wish you all a very happy Family Day."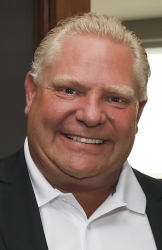 Latest posts by Doug Ford
(see all)