On Saturday, December 8, 2018, at approximately 5:07 p.m., members of the Marathon Ontario Provincial Police (OPP) detachment responded to a report of a motorized snow vehicle (MSV) collision, in the Town of Marathon.
An MSV traveling on a private road with two young males The MSV lost control and struck a pole ejecting the two passengers. When OPP arrived the two males were being attended to by local Emergency Medical Services (EMS). Both were transported to the local hospital for assessment of their injuries.
The 15-year-old male driver was later transferred to the Thunder Bay Regional Health Science Center for further assessments and treatments for a possible head injury. The passenger, a 16-year-old male, was later released from the local hospital after being attended to by medical staff.
The OPP Technical Traffic Collision Investigation (TTCI), as well as OPP Scenes Of Crimes Office (SOCO) units, attended and the investigation is ongoing with possible charges in this MSV Collison.
The OPP want to remind the public regarding the laws for operation of an MVS:
 Children under the age of 12 can only drive an MSV on private property.
12-15 years of age must possess a MSV Operators Licence (MSVOL) to drive on snowmobile trails.
12-15 years of age CAN NOT operate an MSV on or across a roadway.
Over 16 years of age must possess a G1 Drivers licence or higher, MSVOL, or equivalent licence from outside Ontario to drive on Snowmobile trails, across or on roadways (where permitted)
The operator must carry their valid licence, proof of ownership as well as insurance, when operating an MSV.
Always wear an approved MSV helmet when operating or when you are a passenger.
Never drive impaired by drug or alcohol.
Please use caution when driving an MSV and stay alert. When driving at night don't out drive your headlight and visibility. Always insure that your MSV is safe to operate.  Drive safe and stay alert.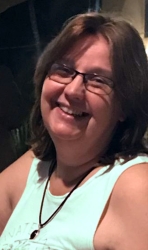 Latest posts by Brenda Stockton
(see all)