Mar 9, 2018 @ 14:05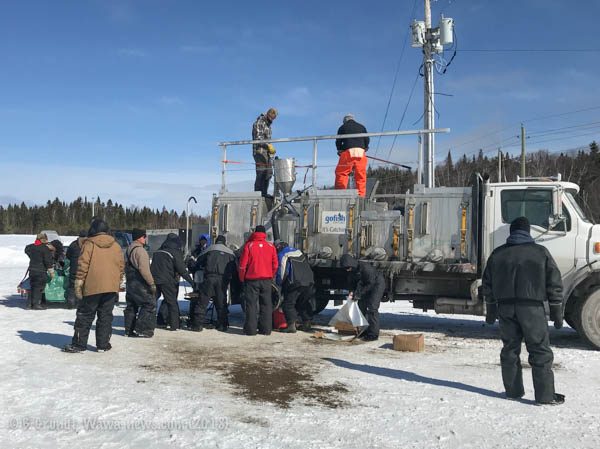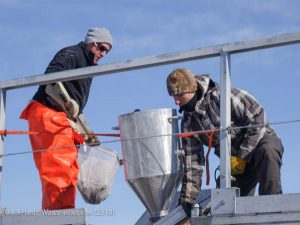 Forty-some volunteers spent Tuesday and Wednesday, March 6th and 7th, 2018 stocking 22 lakes in the Wawa area with Brook Trout, Splake, and Lake Trout. This year, eleven lakes received 13,000 Brook Trout, 10 lakes received 12,000 Splake and one lake received 2,000 Lake Trout, for a total of 27,000 fish (fingerlings). This year, the volunteers were joined by MNRF staff and students from École St. Joseph's Grade 9 Phys Ed Class.
Wilderness Helicopters donated a pilot and aircraft to bring the fish to one lake because of its distance by snowmachine.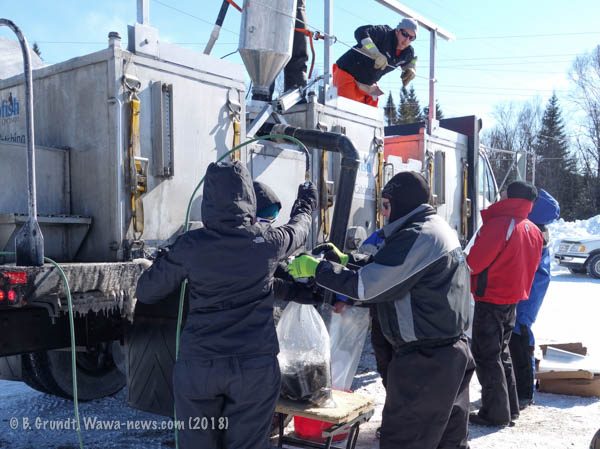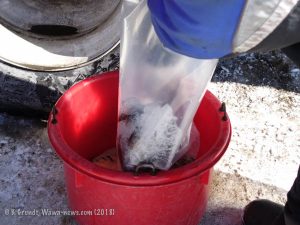 Once the fish arrive from the Sault Ste. Marie Hatchery, they are bagged and ready for transport. There is no time wasted, from fish being placed in the holding 'funnel', to being dropped down into the bag below, oxygenated and tied off, and handed off to a volunteer to plant. These valuable volunteers spend their day receiving bagged fingerlings and traveling into the lake to be planted. They use their own trucks, snowmachines, and in some cases have a short snowshoe in.
This yearly event has been happening for at least 20 years, helping to improve the local fishing opportunities.