Nov 27, 2017 @ 14:58
Recently a constituent who regularly reads this column called my constituency office to offer an opinion on why the Liberals are working so hard and spending so much on media advertising to get Kathleen Wynne's face in the public eye lately.  She said that it's probably because they are afraid no one recognizes her face.  Why?  Perhaps it's because she has been turning her back on the people of Ontario for so long.
For example, just recently NDP MPP Health Critic France Gélinas questioned why the Liberals continue to turn their backs on diabetics in this province. She informed the legislature that every four hours in our province, somebody has a leg or a foot amputated. This means that every year 2,000 people in Ontario have a foot amputated because of an ulcer that won't heal. There is a body of evidence that shows that if we were to fund offloading devices, most of those amputations would be prevented. These devices are similar to a walking cast and are critical to helping ulcers heal.  Most of those people would heal and be able to walk on their two legs like you and me. But Wynne continues to turn her back on diabetics in this province.
Children as well are unfortunately too familiar with seeing Premier Wynne's back. NDP MPP critic for Poverty Reduction, Paul Miller, commented on the release of the Campaign 2000 report card on Child and Family Poverty. He said that the lack of progress on poverty reduction in this province means that Ontario children are needlessly suffering. It seems that every year when this report card is released, we just see a continuation of the same problems. This is simply unacceptable. Even one child experiencing the effects of poverty – hunger, food insecurity, and homelessness – is too many. Ontario needs a premier with a complete plan to begin to address this problem in its entirety. We need someone who will "face up" to this issue.
Still thinking of our children, a report released this month by Children's Mental Health Ontario outlines the serious problems caused by waits of up to 18 months for mental health services for children and youth. This report revealed that one in four parents have missed work to care for their child's anxiety. The survey uncovered long waitlists for children's mental health supports — and discovered that even when families finally do get help – they often do not get the services they need. Clearly the long waitlists for mental health services didn't happen overnight. They are the result of chronic underfunding by consecutive Liberal and Conservative governments which force children to access hospital care as a last resort. This alternative puts extra strain on our struggling hospitals because these kids have nothing else and they reach crisis situations. This all around stress just mounts up and adds to an already difficult situation for families, the education system, doctors and, most importantly, our children.
The Liberals had promised to introduce comprehensive labour law reforms this year – finally. New Democrats tabled several amendments that were aimed at improving working conditions. Our changes would address the areas in which the Liberal's labour bill would let people down. The same amendments were introduced at the committee stage, and some even were introduced as separate bills in the legislature. Our amendments would end exemptions that allow some workers to be paid less than minimum wage. They'd ensure everyone would be entitled to paid sick and personal emergency leave days and enhance the number of vacation days so they stay healthier – physically and mentally. Our amendments would give survivors of domestic violence the time they need to get medical care or find a safe place to live. These things are the right thing to do for everyone in Ontario. But once again, what did Premier Wynne do? She turned her back on working people and their families.
Kathleen Wynne has ignored the needs of people and families, leaning on re-announcements and stretch goals with no funding commitments. Ontarians are tired of an endless string of major disappointments and I don't blame them for feeling let down. They are tired of having a premier who turns her back on them and can't face up to realities.
I say again – it doesn't have to be this way. We need a premier that shares the priorities of Ontario families – one who has a plan that offers hope – one who knows what it's like to work day after day under difficult working conditions and outside stresses. We need someone who knows how hard it is to raise children or care for aging parents. We need someone who knows what it is like to open her own hydro bill. We need someone who won't turn her back on us anymore.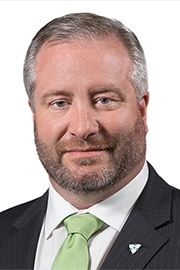 Latest posts by Mike Mantha
(see all)