MacDonald Mines Exploration Ltd. announces that it has received final gold assays on 4 trenches across the Oxide Sands zone. Trenches 725, 750 and 775 produced positive gold (Au) results. No significant results for gold (Au) were detected in trench TR-800 which crossed a road and where only disturbed material (road fill) was encountered. In all cases, where the Oxide Sands were sampled, gold was detected.
Table 1 highlights the recently received results from the on-going sampling. The results for silver content are pending. The spatial relationship between these trenches and the Oxide Sands trend is shown in Figure 1.
Table 1: Highlights from on-going Oxide Sands trenching and sampling
| | | |
| --- | --- | --- |
| Trench ID | | Au (gpt) |
| TR725-0 | | 2.58 |
| TR725-1 | | 1.881 |
| TR725-5 | | 3.44 |
| TR725-7 | | 1.205 |
| TR750-14 | | 3.55 |
| TR750-16 | | 4.15 |
| TR750-3 | | 1.84 |
| TR750-5 | | 1.778 |
| TR750-6 | | 5.601 |
| TR750-7 | | 3.47 |
| TR750-8 | | 1.754 |
| TR775-0 | | 6.45 |
| TR775-1 | | 3.51 |
| TR775-11 | | 1.04 |
| TR775-12 | | 3.55 |
| TR775-7 | | 5.692 |
Quentin Yarie, President and Chief Executive Officer of MacDonald Mines stated, "We will continue to expose and sample the Oxide Sands trend. In the next few weeks, with the arrival of a drill on site, we will begin to assess the vertical distribution of the gold within the sands with the ultimate goal of developing a resource. This resource model will be used to optimize a program for the extraction of the sands, their concentration and the production of a saleable product."
Oxide Sands Sampling Procedure
The Oxide Sands samples are sampled like a borehole at systematic 1-metre intervals along the trenches. Overburden is not sampled – if the sands are exposed, they are sampled vertically along the wall of the trench in 2 to 3kg bags. Oxide Sands samples are not grab samples.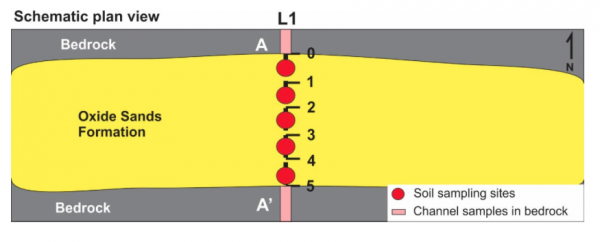 Wawa-Holdsworth Project Highlights
Neighbouring Richmont's Island Gold Mine, Argonaut's Magino Gold Project and Goldcorp's Borden project
Numerous gold showings with diversified mineralization styles occurring in a 500 metres-wide deformation corridor
Year-long road access and easy access to rail, road, electrical power, labour force and suppliers
Overview of the Wawa-Holdsworth Project
Historic work by previous operators defined three gold targets on the Wawa-Holdsworth Project:
Greenstone-hosted quartz-carbonate vein deposit (Soocana Vein System and Reed-Booth Showing);
BIF-hosted gold deposits (gold-bearing pyrite zones in an Algoma-type iron formation);
Gold-bearing Oxide Sands developed from the weathering of the auriferous pyrite zones.
MacDonald Mines is focusing its near-term exploration program on the Oxide Sands. These appear to extend for more than 2 kilometres on the property as corroborated by MacDonald's recent airborne magnetics results (see June 1, 2017 News Release) and reach a depth of at least 8 metres.
Positive preliminary metallurgical results (see July 11, 2017);
The concentration ratio of gold in rougher flotation averaged 6.0:1
The concentration ratio of silver in rougher flotation averaged 5.2:1
Reduction of feed volume in rougher flotation by approximately 85-90%
The Oxide Sands can be processed by a simple crushing/flotation process
No caustic treatments are necessary
The processing will require low power requirements
The waste material is inert (>70 percent silica/quartz)
The soft and relatively unconsolidated Oxide Sands material can be extracted like an aggregate. The Company is working to better define the Oxide Sands in preparation for their potential extraction.
On-site Quality Assurance/Quality Control ("QA/QC") Measures
Sand samples were transported in security-sealed bags for analyses to Activation Laboratories Ltd. in Ancaster, Ontario. Individual samples are labeled, placed in plastic sample bags and sealed. Groups of samples are then placed into durable rice bags and then shipped. The remaining coarse reject portions of the samples remain in storage if further work or verification is needed.
MacDonald Mines has implemented a quality-control program to comply with best practices in the sampling and analysis of both the Oxide Sands and drill core. As part of its QA/QC program, MacDonald Mines inserts external gold, silver and Pt and Pd standards (low to high grade) and blanks every 20 samples in addition to random standards, blanks, and duplicates.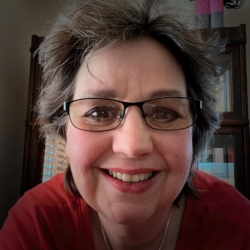 Latest posts by Brenda Stockton
(see all)