Jul 11, 2017 @ 08:03
On Wednesday, July 12, at 7 p.m., the Chippewa County Historical Society (CCHS) at 115 Ashmun Street, will host Tom Farnquist, Director Emeritus of the Great Lakes Shipwreck Historical Society, as he presents a program entitled Diving the St. Marys River: Hidden History Recovered.
Tom was instrumental in helping CCHS acquire a wonderful gift, consisting of bottles, crocks, and clay pipes that were recovered in the waters around Sugar Island by divers Fred and Audrey Warth, of Sault Ste. Marie, Ontario.
It is thus particularly appropriate that he will introduce the newly-created display of these artifacts. Most of the pieces were donated to the Society by Mr. Warth in 2015, a year prior to his death, and subsequently his family added to the gift. A portion of the collection­, which consists of over 300 items will be on permanent display, housed in an elegant custom-made cabinet designed and built by retired LSSU Professor Tom Boger.
In addition to describing some of his experiences with the Warths, and diving in the St. Marys River, Tom Farnquist will move into colder and deeper waters and present a PowerPoint talk entitled Ghosts of the Shipwreck Coast: The Art and Science of Mapping Lake Superior Shipwreck Secrets.
A $225,000 grant awarded to the Great Lakes Shipwreck Historical Society jointly by the Federal Highway Administration, the Michigan Department of Transportation, and the Chippewa County Road Commission enabled him to assemble a group of highly talented people using state-of-the-art side-scan sonar, an unmanned remotely operated vehicle (ROV) and technical divers to record measurements, video and still imagery which was used to create site maps and paintings of five shipwrecks located in deep water off of Whitefish Point in an effort that spanned four years.
The program is free and open to the public. You may enter from the front door on Ashmun Street or by the back door off of the Portage Avenue parking lot, which is handicap accessible. Refreshments will be provided.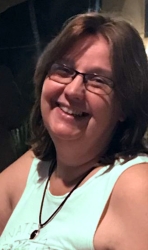 Latest posts by Brenda Stockton
(see all)