Apr 4, 2017 @ 07:35
Mid-March Red Cross Meals on Wheels volunteer Jeff was assisted in his Meals on Wheels delivery by Mayor Ron Rody. They would be doing three deliveries that morning.
When speaking about his experiences as a meal deliverer over the past three years, Jeff said, "There are some people that you would love to spend more time with than others. Some are shut in and cannot get out." Speaking of one client, " He enjoys the conversation. The history he can tell you is unreal. He can tell you what he did many, many years ago. Makes you feel good inside. I don't know how it makes them feel, but it makes me feel good inside."
Mayor Rody explained "With Meals on Wheels, I find that the visit is as welcome as the meal. It's great to have that contact with volunteers, and have a little chat and provide them with a meal." This is Mayor Rody's third year volunteering during the month of March.
Darlene Trovarello said that there are enough volunteers in Wawa (14) that they are needed only once or twice a month. This is why we have great volunteer retention. Volunteers are still needed, especially during the scheduling of holidays during the summer months. If you are interested, please contact or visit the Red Cross office in Wawa.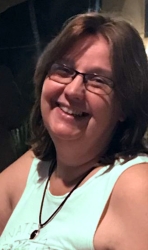 Latest posts by Brenda Stockton
(see all)