Mar 22, 2017 @ 08:21
The Congregation welcomes everyone to worship at First United Church. Services  are held on Sunday at 11:00 a.m. If anyone has a question or concern, please leave a message on the answering machine at the Church – 705-856-2926.
The Easter Cross of Lights will again be placed above the front door of our Church.   Thank you to Maria & Russell & their family who first installed it in 1998. If you wish to purchase a bulb in memory of someone the cost is $5.00 a bulb. Please contact Maria at 856-2861. The Cross of Lights will be lit on Palm Sunday.
Mon. April  03  U.C.W.  7 p.m.  Paula Valois from Chadwic House will be the guest speaker.
Thurs. April 06  Worship Committee  9:30 a.m.
Sat.    April  08   Prayer Shawl   3 p.m.
Thurs. April 27   Thrift Shop begins  5 p.m. ALL HELP  warmly welcomed to assist in sorting on Mondays & Wednesdays at 9 a.m.
May God's love dwell in us throughout every day.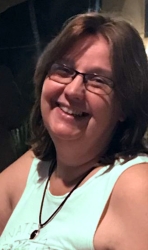 Latest posts by Brenda Stockton
(see all)