It is said that we are six or fewer steps away from each other so that a chain of "a friend of a friend" statements can be made to connect any two people in a maximum of six steps "six degrees of separation". That tenuous type of connection led to this article. When the Nipigon River Bridge failed, Wawa-news covered the highway closure as it affected all travelers on the TransCanada headed west by Wawa. As a result of that coverage, I met Michael Hogan and discovered a joint connection of flying.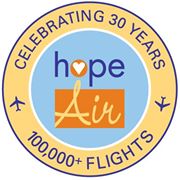 Today, November 8th is the 30 anniversary of the inaugural flight for Hope Air. Originally known as Mission Air, this organization was founded by two women determined to find a better way for cancer patients to access travel for medical care. The first flight was for a young girl from New Brunswick to Toronto via RBC's corporate plane. She needed to fly to Toronto for cancer treatment.
Since then Hope Air hasn't looked back. They provide flights for people of all ages, with any illness from all across Canada. The Mission statement says it all "To arrange free flights for Canadians who are in financial need and must travel to healthcare."
They do this by coordinating flights donated by commercial airlines, corporate aircraft, and private pilots donating their time and their aircraft in this service. Volunteers staff the call centre, coordinating clients with the appropriate flight programs: the Commercial Airline Donation Program, the Flight Purchase Program and the Volunteer Pilot Program.
Private pilots hold a very special place in this organization. Cancer or medical difficulties do not just strike people in large communities, but also smaller communities without any commercial airline service. This is where many private pilots can step in and help. As a private pilot and a founding pilot of the Volunteer Pilot Program, Michael Hogan (photo at right) has over the past 17 years, flown clients from Northern Ontario, including Sault Ste. Marie, Timmins, Thunder Bay, Kapuskasing, Chapleau and Wawa in his Piper PA-30 Twin Comanche.
In September, the opportunity was offered so that I could experience what it is like to fly as if I were a Hope Air client. My flight was from Wawa to Thunder Bay and returning the same day. Michael had texted me earlier from Timmins to let me know that the flight plan was filed and was active, and gave me his estimated time of arrival at the Wawa Municipal Airport.
Only two minutes before his ETA, I could hear his aircraft on final, and there he was taxiing down the runway to the main building. Once the props stopped turning, I walked out, and he greeted me, and we prepared to leave.
Having grown up with my father as a pilot, Michael didn't have to do great explanations about aircraft safety, and after loading my camera bag in the back – we took off.
He explained our flight path would take us over Michipicoten Bay, Pukaskwa National Park, south of the Slate Islands, and just east of Isle Royale before we landed. The day was beautiful and I spent most of it looking at familiar lakes that I had fished with my dad or areas in the Pukaskwa that we had hunted together. I did manage to snap a photograph of Cameron Lake where the bunkhouses and kitchen are for the employees of Wesdome Gold Mines.
After a short flight of 81 minutes, we arrived in Thunder Bay. Had I driven, it would have been a 300 mile, six-hour drive, one way in good weather. If traveling by Greyhound, I'd have to leave at 3 in the morning for a 10 a.m. arrival. Return the same day is impossible, an overnight stay is required, then leaving at 9:15 a.m. to arrive in Wawa at 4:30 p.m., a total of 14 hours on the road. It is doable, but for someone who is very sick, perhaps elderly without a car and/or driver, relying on the bus – probably not a great experience.
For anyone the difficulties of traveling anywhere for medical care is not easy, but the further away you are, the more impossible it can seem; and if you are sick and travelling along, well, many delay or even cancel their treatment.
This is why people get involved with Hope Air. Making donations for seat tickets, donating time as support staff, and the private pilots.

Private pilots love to fly their planes and share the joy they find in the skies with others, they can share an experience that can make that person's day, week, month… Being able to put the ear muffs on, and in the case of one child, putting their hands on the steering column and help fly the plane around the island that carried their name – a priceless memory.
Because of patient confidentiality, Michael couldn't share his client's stories or names, but one can visit HopeAir to read some. One that is close to home is the story of Gary and Sherri Duke. Gary, a lung transplant patient from the Sault tells his story here, or Arianna's (Sudbury) below.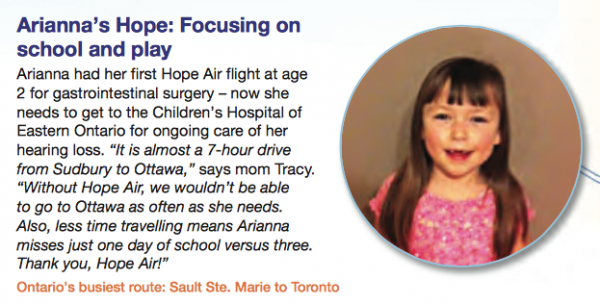 If you are a medical practitioner and need to refer a patient to a specialist or treatment not available in your location Hope Air may be able to provide free flights to a confirmed medical appointment covered by a provincial healthcare plan. 
If you must travel long distance for a medical appointment within Canada, Hope Air may be able to arrange a free airline ticket or flight for you, or for you and your child.
Oh yes, back to that six degrees of separation. It wasn't until I proofed this article, that I remembered that my mother, Myrtô Stockton was able to access a Corporate Angel Network flight to MD Anderson Cancer Centre in Houston, Texas via Dow Chemical in Michigan. That 'six degrees of separation' was a whole lot closer than I thought.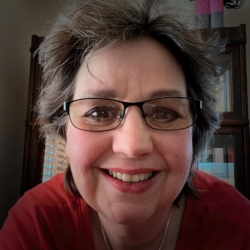 Latest posts by Brenda Stockton
(see all)