The first half of the new Nipigon River Bridge, Ontario's first cable-stayed bridge was opened on November 29th, 2015 after 3 years of construction. The completed bridge will feature three towers with cables supporting the bridge deck and a separate sidewalk for pedestrians.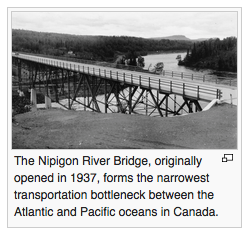 MMM Group Limited designed a four-lane, two-span, composite-cable-stayed bridge for the Highway 11/17 Nipigon River bridge on the Trans-Canada Highway. The design features a two-span composite cable-stayed bridge to be built in two stages to maintain traffic flow. (On October 15, 2015, MMM Group Limited was acquired by WSP Global Inc.).   Bot Ferrovial Nipigon Joint Venture was awarded the $106-million contract (joint venture of Ontario's Bot Construction and Spain-based Ferrovial Agroman) and expects the project to be completed in 2017. Fabricator and erector of the cables is VSL International. In 2013, Hatch Mott MacDonald was retained by MTO to provide Construction Contract Administration for the duration of the construction.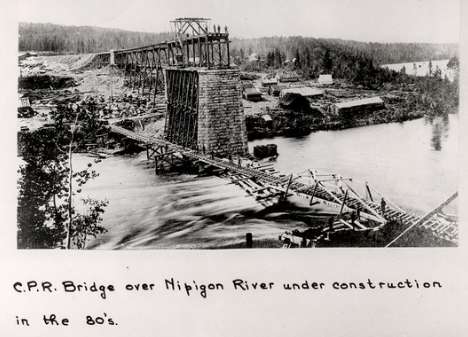 The original Nipigon River Bridge was opened in 1937. Prior to this automobiles had to be transported by rail or ferried across the river. This bridge remained in service until 1974, when it was replaced by a new structure with wider traffic lanes. (thekingshighway.ca).
Minister Gravelle said, "Thanks to the Northern Highways Program, the expansion of the Highway 11-17 corridor will continue with this exciting project. The Nipigon River Bridge will be a very bold and striking structure that will be more than a vital link for traffic on this expanded part of the TransCanada Highway. It will be a landmark structure that will not only serve drivers but also become a destination attraction in its own right."   Today at 3:05 p.m. OPP closed the bridge – due to mechanical issues. 42 days after opening.   Photographs of the bridge show that an expansion joint has shifted, not just inches, but a significant shift of perhaps a foot or more. There also appears to be a tilt to the bridge decking, however, the cross-section shows that that is a design component. There has been no word on the status of the railroad bridge, which is just a very short distance south.
At this time, westbound vehicle traffic is being turned back to Terrace Bay and Schreiber, and the Nipigon Community Centre is open at this time as a refuge for eastbound stranded travelers. At Wawa, traffic westbound is being advised of the bridge closure via MTO highway signs. Information is also available on nearly all Northern Ontario media sites, Ontario511, Twitter feeds and Facebook. (7:11 a.m. this paragraph was corrected to specify eastbound and westbound correctly)   For local residents stranded on the wrong side of the bridge arrangements were being made for them to walk the bridge so they can return home. A shuttle will take them from the bridge to the shuttle stop on Reserve side and then there will be a truck on the other side as well.
Wawa-news has been told that arrangements have been made to ensure ambulance and fire vehicles can cross the sunken expansion joint on metal sheeting, should an emergency arise.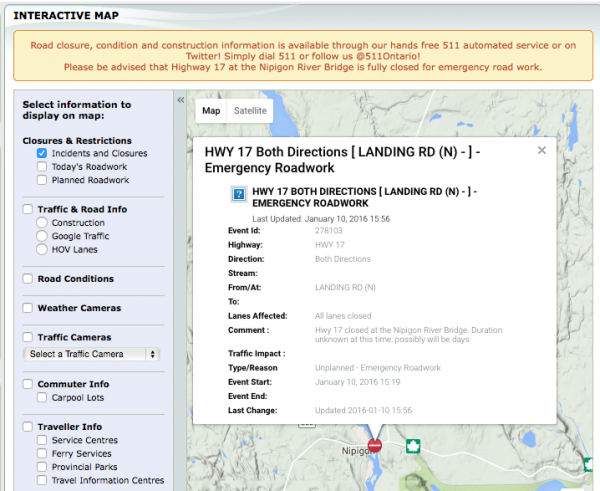 At this time inspectors are being flown in to evaluate the bridge. Until that evaluation is done there is no travel on the bridge. As this is the only passage through Ontario, travelers will have to detour through the United States to get around Lake Superior. If there are substantial delays, communities who receive supplies from Thunder Bay will have to source from points east. Marathon residents are already noting that there will be no Chronicle Journal from Thunder Bay on Monday due to the road closure.
Transports carrying goods may not be able to travel through the United States unless they have valid border documents for themselves and their cargo. This will also apply to motorists traveling through the United States.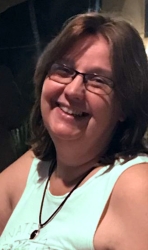 Latest posts by Brenda Stockton
(see all)