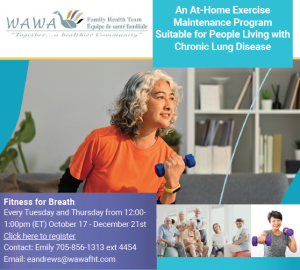 The Wawa Family Health Team is happy to announce the Fitness for Breath startup!
This is a new virtual fitness program for individuals diagnosed with chronic lung conditions (COPD, Asthma, ECT) . This program is run through ZOOM and individuals can attend these classes in their own home. Since this is a virtual fitness program, individuals who are interested are not limited to living in Wawa and we are happy to accept candidates from other communities.
Fitness for Breath has a start date of Oct 17th and registration is now open! Individuals can self register with the link provided below or contact the Wawa Family Health Team to book an appointment with Hayley or Emily to sign up. If you have any questions about this program or want more information, please contact Hayley or Emily at the WFHT at 705-856-1313.
Registration link:https://lunghealth.member365.com/public/event/details/8a9656f13b96c0c03344d729f2e039fc13572897/1
This program is approved by the Lung Health Foundation. This means…
suitable for people living with a chronic lung condition
supervised by instructors that have completed an approved lung health or COPD training course
appropriate for people at all fitness levels and abilities (modifications and variations are offered for each exercise)
a great way to increase daily activity and connect with others living with similar conditions
supported by the Lung Health Foundation with checks to ensure the above criteria are maintained
easily accessed from the convenience and safety of home
Questions about Virtual Fitness for Breath or need help registering? contact: [email protected]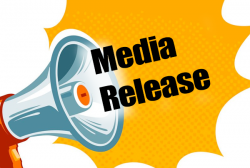 Latest posts by This Media Release
(see all)