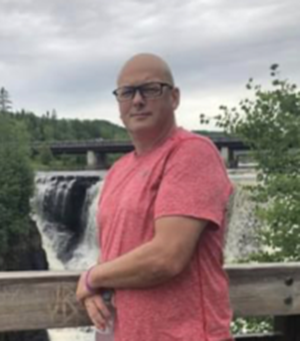 An inspiration to all and a man with many hats and names, James Gallant (55), passed away peacefully at Campbell House Hospice in Collingwood with his family by his side on August 14, 2023.
James was born April 13, 1968, and grew up in Wawa, ON with his parents, Gus and Julie Gallant, where he played hard and lived carefree. James moved to Barrie in 1986, met his soul mate and best friend, Angela in 1993, and they married in 1995. They resided in Barrie for most of their married life, and have two children Tiana Gallant (27), and Trevor James Gallant (TJ) (23). Later, the two moved back north to Longlac, ON, a few doors away from his in-laws Willie and Rosemary Walter. In the last few months, James was fortunate to meet, hold and love his granddaughter Faye Juniper Rose Saunders, daughter of Tiana Gallant & Galbraith Saunders (27), declaring himself as Supreme Overlord of the little one. He was a pillar in his children's development and emotional well-being. He was very proud of his children and their accomplishments, especially that they are kind, thoughtful, loving and mindful. Life was never easy, but James always knew how to be positive and provide humour to lighten the stress of the many curveballs, life threw their way.
James was diagnosed with Gastrointestinal Stromal Tumours (GIST) in 2019 and he continued to use sheer will, determination and persistence to power through the toughest journey ever. Together with his wife, they found great support with Life Raft Group Canada, a registered Canadian not-for-profit patient association. Through Life Raft Group Canada, they attended support groups and medical conferences to learn about living with a rare disease. They met some great people on a similar journey. James entered a medical trial with Princess Margaret Hospital, which his family credits to gaining extra time together.
James had a passion for making a difference and working with kids. His most current position being an Educational Assistant with the Simcoe County District School Board (SCDSB), which was the perfect job for him. He was known as Mr. J., in that world. James supported students, colleagues, and parents during his time with SCDSB. His understanding of the needs of the students he worked with was amazing and he had a memorable rapport with all students. James was well known for his crazy hats, especially his Yeti hat. He considered the hats a conversation piece and enjoyed putting a smile on everyone's face.
James found a new love with playing ball hockey and developed some great friendships with his teammates. He was known as O.J. (Old James), where he provided humour, drive, and a positive attitude and even made friends with the opposing teams. His friends and teammates honoured James with a jersey retirement hockey game, when he could no longer physically play. When he could no longer play ball hockey, he found a new world to play in – online gaming. Known as Suggy in this world, he met a group of friends that would play together regularly. He continued to provide humour, guidance and a passion for life, even in a fantasy world.
Whether you called him Jamie, O.J., Mr. J., or Suggy, James was a shining light during the dullest of times. James, as he would say was a "Jack of all trades, master of none". He was a son, a husband, a father, a friend, a coach, and a mentor. He coached both kids in sports, particularly soccer and ball hockey; his goal was to make sure the kids had fun, he didn't care about winning. For laughs and team spirit he would get a mohawk (when he still had hair) and dye it the colour of the team's jersey & let the kids pelt him with water balloons and wet sponges after games. He always made a huge impact and was a positive force for each team he coached. James made a difference; he was a positive role model for the kids. He was kind, caring, hardworking and made the kids feel seen and appreciated. He knew when someone just needed an ear to listen, needed a hug, support or a nudge in the right direction.
In the end, even when medical interventions no longer worked, James continued to keep his sense of humour, suffer in silence, and keep a smile on his face. He made a grand entrance into Campbell House Hospice, letting his personality shine. James' family will forever be grateful to Campbell House Hospice, the staff and the Living Wish Foundation for making his last week of life something to always remember, just as James will always be remembered.