Jun 11, 2023 at 07:57
June 10, 2023
Kyiv, Ukraine
Slava Ukraini – as Canadians say these words, we pledge to stand shoulder to shoulder with the people of Ukraine for as long as it takes.
The Prime Minister, Justin Trudeau, today visited Kyiv, Ukraine. He was accompanied by the Deputy Prime Minister and Minister of Finance, Chrystia Freeland.
During his visit, the Prime Minister reaffirmed Canada's ongoing solidarity and unwavering support for Ukraine and its people as they continue to fight Russia's brutal invasion while facing unconscionable Russian strikes on civilian targets.
Earlier today, Prime Minister Trudeau visited Saint Michael's Square to lay a wreath at the Wall of Remembrance of the Fallen for Ukraine and pay tribute to the thousands of Ukrainians who have been killed, and the millions displaced. The Prime Minister also addressed the Verkhovna Rada of Ukraine, the country's parliament, and visited the Lisova Poliana Veterans Mental Health Rehabilitation Center to meet with soldiers.
In the wake of escalating strikes on civilian targets, and as Ukraine continues to stand strong, the Prime Minister and the President of Ukraine, Volodymyr Zelenskyy, held a bilateral meeting. Prime Minister Trudeau and President Zelenskyy reaffirmed the two countries' partnership with a Canada and Ukraine Joint Declaration. While in Ukraine, the Prime Minister also met with the Prime Minister of Ukraine, Denys Shmyhal.
Today, the Prime Minister announced additional measures and investments to continue supporting Ukraine, including:
Military Assistance for Ukraine: Canada is committed to respond to Russia's ongoing illegal and unprovoked invasion by continuing to provide immediate military support to Ukraine such as:

$500 million in new funding for military assistance to support Ukraine's capacity to respond to Russian aggression.
Operation UNIFIER will be extended to 2026, providing significant capacity for the Canadian Armed Forces to respond to urgent Ukraine training needs.
Canada will contribute to multinational efforts to train pilots, and maintain and support Ukraine's F-16s, leveraging Canadian expertise in these areas.
Canada will also be contributing to the Leopard 2 tank maintenance centre in Poland.
Canada will provide 288 AIM-7 missiles to be repurposed in the United States for use in air defence systems, which will support Ukraine in its efforts to defend its skies.
From existing funding, Canada will provide 10,000 rounds of 105mm ammunition to Ukrainian Armed Forces.
Canada has already delivered 78 vehicles to Ukraine and the next 122 Roshel vehicles will be delivered in the coming weeks.

Sanctions and economic measures: Building on Canada's leading work on seizure of assets from those responsible for, and benefitting from, Russia's acts of aggression, Canada is committed to imposing additional sanctions.

Canada was the first in the G7 to pass legislation allowing us to pursue the seizure and forfeiture of sanctioned Russian assets. As part of our world-leading efforts, Canada is seizing an Antonov 124 cargo aircraft, previously operated by Russian carrier Volga-Dnepr and beginning the judicial phase of the forfeiture process.
In direct response to Russia's attempts to destroy Ukraine's cultural sites, institutions, and identity, Canada is imposing new sanctions against 24 individuals and 17 entities in Ukraine as part of the Special Economic Measures (Ukraine) Regulations.

Humanitarian Assistance Response to the breach of the Nova Kakhovka dam: The collapse of the Nova Kakhovka dam illustrates once more the devastating price borne by civilians for Russia's invasion. Canada is allocating $10 million in new funding for immediate response to the catastrophe and redirecting $37.5 million in previously earmarked funds for Ukraine to support organizations responding to the needs of people in flood-affected regions. Canada is also committed to providing additional resources for post-flood reconstruction.
Mental Health: To respond to the lasting mental health toll of the war on Ukrainian citizens, Canada is funding projects to support mental health initiatives in Ukraine. This includes:

Civil Society and Volunteer-Based Psychological Resource Group: Canada will allocate approximately $64,000 to support individuals in the Dnipro region facing mental health challenges.
Education for Resilience: Canada will allocate approximately $52,000 to support teachers and children in war-affected regions of Ukraine through educational courses and mentorship.
War trauma: Canada will allocate approximately $50,000 towards the "Healing of war traumas for the local leaders of communities in Ukraine" educational programme.
Phoenix NeuroRoom – Psychosocial Support: Canada will allocate over $99,500 to help medical personnel in the Kharkiv region cope with traumatic war experiences.
The investments announced today build on Canada's commitment of over $8 billion in funding towards financial, military, humanitarian, development, and immigration assistance to Ukraine. In addition, Budget 2023 extends a $2.45 billion loan to the Government of Ukraine for this year, with the aim to support Ukraine's recovery and reconstruction.
Canada is committed to continue working closely with NATO Allies, EU, and G7 partners, as well as the broader international community to coordinate its response measures and support for Ukraine, and hold President Putin and those complicit in his unprovoked, unjustifiable and illegal war, accountable. Canada has strongly condemned Russia's brutal invasion bilaterally, as well as at the UN, the Organization for Security and Cooperation in Europe (OSCE), NATO, and other multilateral forums, and will continue to do so.
Canada will always stand with Ukraine and Ukrainians as they fight authoritarianism and continue to defend their freedoms, independence, and democracy.
Ukraine and Canada Joint Declaration
June 10, 2023
Kyiv, Ukraine
At their meeting in Kyiv on Saturday, June 10, 2023, the President of Ukraine and the Prime Minister of Canada adopted the following declaration.
The President of Ukraine and the Prime Minister of Canada reiterated their unequivocal condemnation of Russia's ongoing war of aggression against Ukraine. Ukraine has shown remarkable determination in exercising its inherent right to self-defence against this unprovoked and unjustified invasion. Russia must immediately, completely and unconditionally withdraw all its military forces from the territory of Ukraine within its internationally recognized borders.
Canada remains unwavering in its commitment to Ukraine's independence, sovereignty and territorial integrity within its internationally recognized borders. Canada commends the determination and courage of the Ukrainian people and armed forces in defence of their independence. Their resolve and valour on democracy's front line are not only safeguarding the security of Europe in the face of Russia's violent expansionism, but also bolstering the rules-based international system and demonstrating that no matter how brutal the foe, might does not make right.
As they do so, the people of Ukraine can count on Canada to continue its political, financial, humanitarian and military support for as long as it takes – individually and through international cooperation within the G7, NATO, the United Nations and any other forum where Canada can bring its weight to bear.
Since February 2022, Canada has committed over $8 billion in wide-ranging assistance to Ukraine. Canada is providing unprecedented military support, including tanks, air-defence systems and artillery, and continues to develop new assistance measures based on Ukraine's needs.
Beyond military assistance, Canada has provided Ukraine with civilian assistance, including financial, humanitarian and emergency support ranging from economic assistance to contributions to demining efforts to save civilian lives. Canada has led the way, in several ways, such as by issuing the world's first Ukraine Sovereignty Bonds.
Canada supports Ukraine's initiative for a just and sustainable peace based on Ukraine's sovereignty and territorial integrity, and commends the key principles of the Ukrainian Peace Formula. Canada is providing significant contributions under several points identified in the Formula, including nuclear safety, food security, accountability and ecological safety. Looking forward, Canada will continue to focus its support on Ukraine's greatest needs, with a particular focus on those outlined in the Formula. Canada stands ready to cooperate with Ukraine and with others to ensure as wide an international participation as possible in pursuing the Peace Formula's objectives, including through an upcoming Global Peace Summit and any other appropriate diplomatic initiatives.
Ukraine and Canada recognize that Russia's war has had significant and wide-ranging consequences outside Ukraine, including worsened global energy and food crises. These effects have been felt most acutely by the most vulnerable. Ukraine and Canada commit to continuing to work to alleviate these consequences, including through engagement with partners in the Global South. The two countries also reiterate the crucial role of the Black Sea Grain Initiative in helping to relieve global hunger, and the need to ensure its continued and unhindered operation. Canada commends Ukraine's ongoing efforts both to implement the Black Sea Grain Initiative and to contribute to global food security through other projects, such as the Grain from Ukraine initiative.
Ukraine and Canada are united in their determination to fight against impunity, and underline their firm commitment to bringing to justice those responsible for war crimes and other atrocity crimes committed in Russia's war of aggression. Canada supports international efforts in this regard and is a member of the Core Group studying options to ensure accountability for the crime of aggression, for which broad international support is essential. Ukraine and Canada also reiterate their support for the investigations of the Prosecutor of the International Criminal Court, which are a step toward accountability, and have taken note of the court's arrest warrants. Canada was among the countries that first referred Russia's actions in Ukraine to the Court in March 2022 and has sent a team of investigators to support its important work.
Ukraine and Canada agree on the need to increase our collective pressure on Russia through further sanctions to weaken Russia's ability to continue its illegal war of aggression. Furthermore, they agree on the need to strengthen efforts to ensure the effective implementation of sanctions and to prevent and counter circumvention in and by third countries.
Ukraine and Canada will continue to work together with others to develop mechanisms to provide compensation for losses, injuries and damages caused by the Russian aggression. Canada was the first country to launch a process to seize and pursue the forfeiture of assets belonging to sanctioned individuals or organizations, with a view to ultimately using the proceeds to support the reconstruction of Ukraine and compensate the victims of Russia's illegal and unjustifiable invasion. Canada also joined the Council of Europe's Register of Damage Caused by the Aggression of the Russian Federation Against Ukraine as a founding associate member on May 17, 2023. Canada will continue to explore appropriate options for the use of frozen and immobilized Russian assets to support Ukraine's reconstruction and for the purposes of reparation.
Canada, together with international organizations and international partners, is committed to participate in the recovery and reconstruction of Ukraine. Already now, it is important to lay the ground for an ambitious and long-term engagement that will create opportunities and enable the Ukrainian people to rebuild their country, based on a transparent and inclusive national reconstruction architecture supported by key reforms based on democratic principles. Engaging all relevant partners, including the private sector as well as national and international organizations and financial institutions, is essential to ensure a prosperous future for Ukraine.
In the NATO framework, Canada recalls that Ukraine has the right to choose its own security arrangements. Canada continues to focus on immediate support to bolster Ukraine's capacity to defend itself. Canada fully supports the NATO-Ukraine Council as a venue to further increase and expand ongoing cooperation to help fulfil Ukraine's path towards the Euro-Atlantic family, consistent with the Bucharest Declaration. Canada supports Ukraine to become a NATO member as soon as conditions allow for it. Ukraine and Canada look forward to addressing these issues at the NATO Summit in Vilnius in July 2023.
On December 2, 1991, Canada became the first Western country to recognize Ukraine's independence. More than 30 years later, Canada continues to stand with the people of Ukraine as they fight for their independence, democracy and freedom.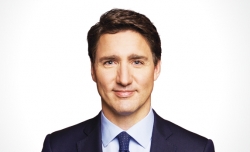 Latest posts by Justin Trudeau
(see all)