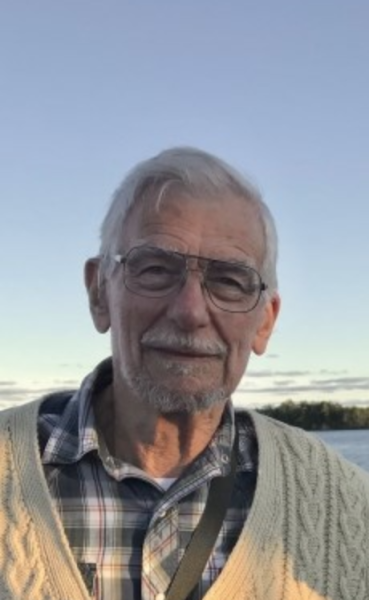 Michael Cleary, landscape watercolour artist, after a brief illness died quietly on Sunday, March 26, 2023 at the Royal Ascot Care Centre in Vancouver, BC. He was 93 years old. He is survived by his wife Patricia (nee Snider); his children Catherine Rogers (Michael Sheard), Stephen Cleary (Tracey) and Pamela Cleary; and his grandchildren Laurel Rogers (Gerissen Tang), Sadie O'Hara (Griffin) and Charlie Cleary.
Michael was a founding member of the Muskoka Autumn Studio Tour. The Tour, one of the first of its kind, featured local artists displaying their work in their own studios. He was a member of the Canadian Federation of Artists and a Life Member of the Canadian Society of Painters in Water Colour. He enjoyed leading painting workshops and sharing his insights with other painters. In describing his art, Michael said: "I was introduced to watercolour painting during my last years at grammar school in England. Since then I have studied oil painting, design and composition as well as various crafts. I have deliberately not taken any instruction in watercolour because I wanted to work out my own methods and evolve my own symbols. In order to create work that is fresh and full of the detail that intrigues me, I paint outside in front of the subject in all seasons keeping studio painting to a minimum. Each painting is a unique reaction to the subject at the time it was painted, requiring several days in front of the subject, during which time light and weather conditions vary a great deal. The final result is a synthesis of all I have learned about the subject while the work was in progress."
Michael was born in 1930 in Salisbury, England to parents Lucy and Frederick Cleary, and was an only child. He attended Camborne School of Mines and worked in West Africa before coming to Canada, where he worked in northern Ontario and the Yukon and completed his engineering degree at U of T. Starting in 1954, he served in the British Army Royal Engineers for two years as a Second Lieutenant in the Canal Zone (Egypt) and in Cyprus. While on leave, he travelled to Lebanon, Syria and Jordan.
In 1956 he returned to Canada and worked in Wawa, ON at the Helen Mine. In Wawa, he met and married the love of his life, Patricia Snider. They built an A-frame cabin on Wawa Lake (which is the heart home of the family to this day) and had their first two children. In 1964 they moved to southern Ontario, where Michael undertook a short second career as a high school teacher and their third child was born. 1968 brought a move to Gravenhurst, ON where he embarked upon his life's work as a landscape watercolour artist. He found his subjects around Muskoka but also made regular trips to Algoma with other artists Lawrence Nickle and John Palmer. He also gradually went further afield on solo painting trips that eventually ranged from coast to coast to coast.
While painting skim ice on a beaver pond outside of Gravenhurst, Michael found himself dreaming about a home at the location. The purchase of the property in 1978 led to Home Pond Studio, a home, workplace and studio that he largely designed and built himself. They moved into the house and studio in December 1979. In 1985, Pat left her career as an elementary school teacher and librarian to accompany Michael on his painting trips. Their trips included six months in the Yukon and three months on Baffin Island.
In 1987 they sold Home Pond Studio and, in 1989 after returning from the Baffin Islands, they moved to British Columbia. They lived in Eastgate near Manning Park and then on their catamaran sailboat before buying a home in Port Alberni in 2005. In 2000 and 2001, they completed a circumnavigation of Vancouver Island on their sailboat. 2016 brought a move to an apartment overlooking a park in Vancouver. Michael continued to paint his wonderful paintings through all of these years, finishing his final painting in 2021.
In the summer of 2022, both Michael and Pat had a lengthy stay in hospital due to COVID infections. On discharge from hospital, they moved together to the Royal Ascot Care Centre, where Pat still lives in a room surrounded by Michael's paintings and family photos. Michael is deeply missed by his family.
A Celebration of Life will be held at a later date in Ontario.
In honour of his memory, donations could be made to the Canadian Society of Painters In Water Colour at https://cspwc.ca/payments/ or the Alzheimer Society of British Columbia at https://alzheimer.ca/bc/en/take-action/donate.